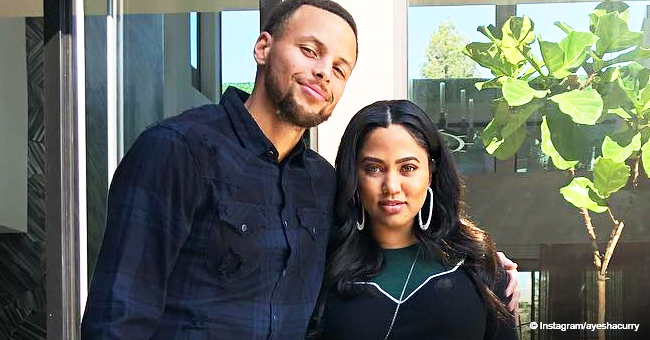 Stephen and Ayesha Curry's Daughter Riley Looks Adorable in Her Riding Outfit during Schooling Show

Ayesha Curry, the wife of NBA star Stephen Curry, took to Instagram to share a slideshow of her daughter, Riley, wearing a riding outfit for a schooling show.
Stephen and Ayesha met in a church youth group in Charlotte when they were 15 and 14 years old respectively. After being together for a long time, they decided to tie the knot in July 2011.
Only one year later, their first child, Riley, was born. Three years later (2015), daughter Ryan was born, and Canon, the youngest member of the family, was born in 2018. One of the most interesting aspects of the three children is that all of them were born in July.
RILEY AT A SCHOOLING SHOW
As a proud mother, Ayesha has shared several photos and videos showing her kids doing what they like and what makes her and Stephen happy. One of her latest posts on Instagram is proof of that.
In the first photo of the slideshow, Ayesha appeared hugging Riley and smiling at the camera showcasing her beautiful eyes. The seven-year-old girl looked as beautiful as her famous mother as she was also smiling.
For the second pic, Riley, wearing beige pants, a white shirt, and a black helmet, was getting ready to ride a horse while Ayesha was behind her to make sure everything was okay.
BEING PROUD OF HER DAUGHTER
In the caption, the mother-of-three admitted to being proud of her "big girl," adding that she couldn't believe how fast time has passed.
"She's the best biggest sister. Always helping out with her sissy and baby bro. I've dreamed of this. Love my babies. These are pics from Riley's schooling show yesterday. She loves riding," pointed out Ayesha.
A VERY BUSY WORKING MOTHER
Stephen's wife has a lot on her plate. Apart from being the mother of three children under the age of seven, she is expected to host ABC's upcoming show "Family Food Fight," wrote a cookbook, created a cookware line, and owns two restaurants and a wine line.
Stephen and Ayesha met in a church youth group in Charlotte when they were 15 and 14 years old respectively.
Earlier this month, her family appeared on the cover of Parents magazine, and she shared some secrets to making things work during an interview. One of the things she stated was the basic table rule: you don't get dessert if you don't finish your dinner.
SOME OF THE RULES AT THE CURRY HOUSEHOLD
Later, she added that even though her children as young, she and Stephen want them to have manners:
"I just want them to learn the basics, like, if you burp, say 'Excuse me!' Use your napkin to wipe your hands and your face; don't use your shirt. Simple things like that."
Ayesha also said that she and Stephen have dinner rules, too. One of them is no phones at the table, but they tend to break it when one of their children do something "super cute" that makes them record it.
Please fill in your e-mail so we can share with you our top stories!