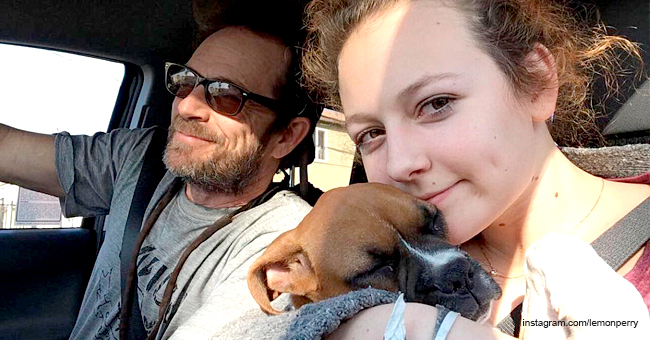 Luke Perry's Daughter Shares Never-Before-Seen Photo Saying She Misses Him a 'Little Extra Today'
Sophie Perry, daughter of the late Luke Perry posts a touching tribute on Instagram, less than three weeks after the tragic passing of her father.
The 18-year-old was on a humanitarian trip to Africa when her father suffered a stroke. She made it home in time before he tragically passed away at 52 years old. Sophie recently took to Instagram to post a touching tribute. Her caption read:
"Miss him a little extra today."
The photo shows Sophie cuddling a puppy while her dad was behind the wheel, both father and daughter looking relaxed and happy.
It was a sweet moment that captivated the teen's 89,400 followers and comments quickly piled up on her Instagram feed.
While majority of the comments were supportive, others were outright rude. Just a few days ago, the teen posted a lengthy message on Instagram, which began with her saying that since her dad died, she has received a lot of attention online.
She added, "While most of it has been positive, some people just can't be nice."

Sophie ended the caption by saying, "So to those of you shaming me for my language and my wardrobe and most disgustingly, my grieving process, do us both the favor and just unfollow. It's a waste of both of our time."
This wasn't the first time that Sophie spoke about her grief on Instagram. Soon after her dad's passing, she asked her followers to bear with her while expressing her gratitude for all the positivity being sent to her family. She added that she was just being grateful quietly.
The world mourned her father when news broke of his sudden passing. Born as Coy Luther Perry III, the actor, and producer, was famous for his roles in "Beverly Hills 90210," "The Fifth Element," and "Buffy the Vampire Slayer." In an interview with Sway in the Morning, he talked about having to audition 256 times before he landed his first gig. He had this to say, after receiving 250 rejections:
"When I came in not expecting anything other than to be asked to leave, they sort of took notice of that and it changed the nature of the work I was doing. I wasn't going in trying to be the guy they wanted. I said, here's what I do, if you want this call me. If you don't want this, you call somebody else."
He added that that's what enabled him to have confidence and got him 90210 and that is what Aaron (Spelling) responded to.
The actor made a successful comeback in 2017 as Archie's father in "Riverdale."
The series' executive producers issued this statement together with Warner Brothers Television and the CW Network:
"We are deeply saddened to learn today about the passing of Luke Perry. A beloved member of the 'Riverdale,' Warner Bros. and CW family, Luke was everything you would hope he would be: an incredibly caring, consummate professional with a giant heart, and a true friend to all. A father figure and mentor to the show's young cast, Luke was incredibly generous, and he infused the set with love and kindness. Our thoughts are with Luke's family during this most difficult time."
The show shut down production following the news of the actor's death.
Please fill in your e-mail so we can share with you our top stories!