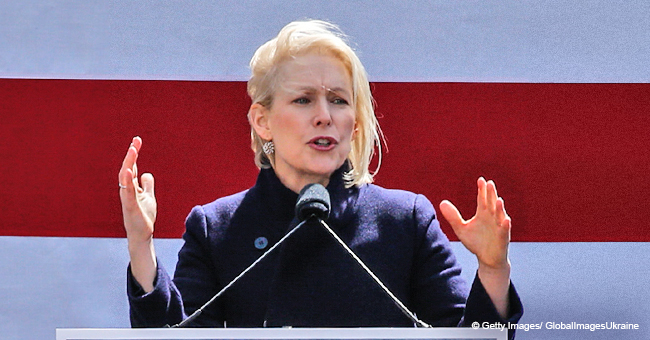 Kirsten Gillibrand Joins Presidential Run, Calls Trump a 'Coward' in a Speech Outside His Hotel
New York Sen. Kirsten Gillibrand directly attacked President Donald Trump and his policies during a speech, calling him a "coward" who "punches down" and said that he is tearing down the "moral fabric" of America.
Kicking off her bid for the Democratic presidential nomination in front of Trump International Hotel, Gillibrand said the people of America deserve a president "worthy" of Americans' bravery.
"The people of this country deserve a president worthy of your bravery. A president who not only sets an example but follows yours. Your bravery inspires me every day, and that is why I', running for the president of the United States."
Sen. Gillibrand even referred to the Trump building, calling it a "shrine to greed, division, and vanity," and called the president a "coward". She further added that Trump "demonized" the vulnerable and he punches down.
"He puts his name in bold on every building. He does all of this because he wants you to believe he is strong. He is not. Our President is a coward."
The Democratic candidate does not shy away from directly criticizing President Donald Trump unlike some of 2020 Democratic presidential primary candidates. She regularly voted against his nominees and even counted herself as a person who has stood up to President Trump "more than anyone else in US Senate".
During her speech, Sen. Gillibrand also praised the bravery of high school students organizing to end gun violence and the formerly "well-behaved women" who organized, ran for office, voted and won in 2018.
Serving in the junior United States Senator from New York since 2009, Sen Gillibrand is a member of Democratic Party who served as a member of the US House of Representatives from 2007 to 2009.
Sen. Gillibrand's presidential campaign will call for universal healthcare, gun control, national paid leave, "Medicare for All", passing a "Green New Deal", and "Universal pre-K".
Please fill in your e-mail so we can share with you our top stories!