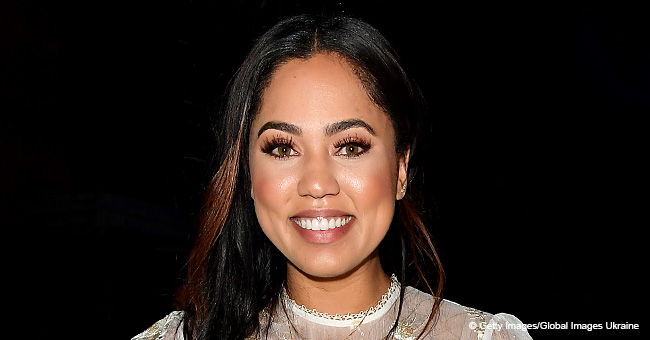 Ayesha Curry Shows off Her Dance Moves in Colorful Ensemble at 30th Birthday Party (Video)

Ayesha Curry got down on the dance floor with her husband, Steph Curry during her of "dirty thirty" birthday celebration. A video from the occasion revealed their synchronized grinding as the crowd cheered them on.
Ayesha Curry showed off some serious grinding as she celebrated her 30th birthday.
OWNING THE DANCE FLOOR
March 23 marked the day Ayesha stepped into her 30s but she partied the night before. Video clips from her birthday bash revealed the colorfully dressed celebrant getting down on the dance floor.
Ayesha indulged her guests who egged her to flaunt her killer sexy moves. She grinded her way around the dance floor and showed off how low she could go as singer HoodCelebrityy sang "Walking Trophy."
At one point, she was joined by her husband, Steph Curry who made the crowd squeal as he synchronized his moves with his wife. The celebrity couple just added another reason for fans to use them as a benchmark for #couplegoals.
The party centered on the lit-up dance floor with Ayesha's name written across it. A DJ provided music and yelled the birthday girl's name as she danced for her guests. There was also a photo booth and sparklers to complement the celebration's Jamaican theme.
A NIGHT OF SURPRISES
The party was a surprise prepared by Steph for his wife who exclaimed, "LOL I'm shooketh" in a video on her Instagram stories where she's being prepped for the occasion.
The couple arrived at the venue in a party bus along with Ayesha's friends, Gabrielle Union, Jessica Alba, Sabina Gadecki, Tamera Mowry and Mia Wright, to name a few.
Steph began the evening with a toast also captured on the NBA player's Instagram story.
"Everybody put your glasses up. Shout out to Ayesha Curry turning dirty thirty, baby," he says. "My baby boo turning treinta let's get ittttttt," he adds as a caption to the clip.
Sometime during the night, Steph took the stage and addressed his wife.
"We talk a lot about speaking things into existence, about what you're going to do in your 30s and beyond, and we're all going to be here to see and witness it firsthand. So I'm very excited to be here with family and friends, to celebrate your life."
And if that's not enough, he also got down on one knee and sang to her.
HUSBAND OF THE CENTURY
The following day, Ayesha thanked her "husband of the century" as she shared a clip of them showing off their outfits for the party.
"Husband of the century right here.My heart is beyond full. Thank you to everyone who came out to celebrate last night. I can't believe it. Thank you My choochie, sher bear and TT and everyone else who made last night so perfect. What a beginning to the next chapter of my life! The story is just getting interesting."
ON THINGS GETTING INTERESTING
There are more than a few ways Ayesha's life got more interesting as she turned 30. She's now a mother of three after she welcomed the couple's first son in July.
Last month, she also opened the third branch of her restaurant, International Smoke in Florida. The upscale barbecue joint has welcomed no less than former President Barack Obama who dined with the Currys in their San Francisco branch on President's Day. Steph and Barack are good friends and work closely together for the latter's "My Brother's Keeper" initiative.
HER DREAM DINNER GUEST
Not in attendance during the dinner which also included John Legend and his wife Chrissy Teigen was Michelle Obama. It's a shame since Ayesha was very vocal about her dream dinner guest being the former first lady.
"I hear she's a meat and potatoes girl, so I'd probably make my pan steaks with garlic and rosemary. Simple and classic, but SO delicious," she told Hollywood Life in the event that Michelle walked into her restaurant.
Happy birthday Ayesha!
Please fill in your e-mail so we can share with you our top stories!