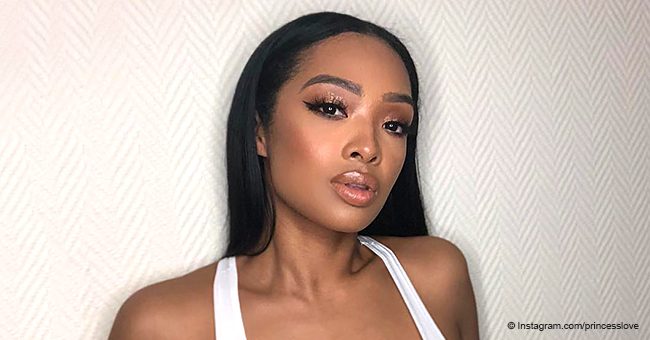 Princess Love Shares Adorable Photo of Her Mother and Daughter, Showing How Much They Look Alike

"Love and Hip & Hop" star Princess Love shared an adorable picture of her mother and daughter on her Instagram page. The duo looks so much alike, they could pass as twins!
It was Princess' mother's birthday, and in an attempt to show her love, she put a picture up on her page. To the delight of many, the image came with a cute bonus tiny individual; Love's baby with husband Ray J, Melody Love Norwood.
The goofy picture is all shades of cute. The grandma could be seen in a blue and white striped shirt holding her granddaughter tight while also goofily putting her tongue out. But that wasn't the highlight of the image; Melody killed the pose by mimicking her granny and putting her tongue out too.
So many of the actress' followers couldn't stop gushing about how cute the duo look and how much Love's baby girl looks like her beautiful mother.
Princess Love and husband, Ray J got engaged in 2015 and finally tied the knot in 2016 in an intimate ceremony witnessed by family and friends. Although they've been through so much regarding their relationship, the birth of their daughter a few months after their second wedding anniversary was a blessing that healed the marriage.
"She's completed us as a family. We've grown as people and as parents," Princess tells ESSENCE.
The "Love & Hip Hop" stars have a documentary "Ray J & Princess's Labor of Love" aired by VH1 that detailed their experiences of becoming parents. The idea behind the one hour clip was to show fans what it was like for them to bring a new life into the world (including the bitter and sweet parts.)
Having Melody has tuned Ray J's overly funny attitude down and made him more mature when it comes to handling matters that concern his little one.
"I'm playful with the baby, but I'm really serious about it," he says. "When the baby arrived, that's really when my emotions went to a whole other place…it really broke me down and humbled me and really made me a soldier for our relationship in its entirety," Ray J told Essence.
The father of one has since said he can't wait to have another child with his wife.
Please fill in your e-mail so we can share with you our top stories!