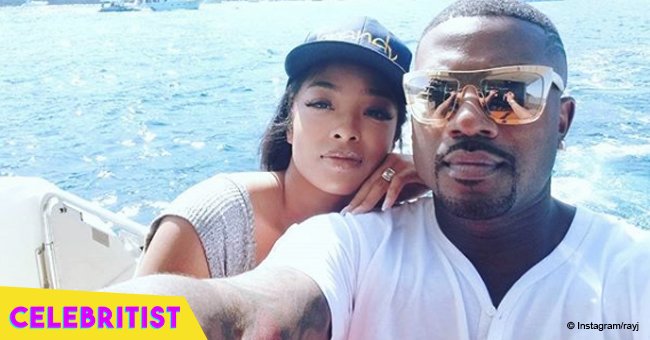 Ray J kisses wife Princess Love in touching photo after announcing birth of baby girl

Ray J and Princess Love are officially parents after welcoming their baby girl into the world recently. And in light of the newest addition to their family, Ray J shared an adorable photo of him and the love of his life as he appreciates what she has brought into the world.
The new parents are on cloud 9 after welcoming their baby girl Norwood. On May 23, the parents underwent an entire day of labor before finally welcoming their first child. The birth announcement was revealed by the excited father through a compilation video, snippets from their wedding, ultrasound pictures, and moments of doctor's appointments were shown before revealing the exciting news at the end.
"I just wanna say to you @princesslove I LOVE YOU! im so Proud. This has been life Changing for me. To watch you go thru all of this for us to have this beautiful Ángel! I have so much more respect for u in so Many new ways- you have humbled me to the highest level- if I ever doubted you or didnt show it I am so so sorry! You are my heart and soul! I will always be there for you 4LIFE! and even in heaven!!! THANK YOU THANK YOU THANK YOU- and to all the women who have been down this journey I love and respect you- and I promise to show that! and to my beautiful wife this is just the beggining of the best time in our life!!! you are my true soulmate and I love you soooooo much!! #NewParents #BabyLove @rayjnprincess #Godsplan"
The proud parents named their first child Melody Love Norwood, and was born weighing seven pounds.
The singer, who's real name is William Ray Norwood Jr., got exactly what he wanted: a baby girl. When he first announced that his wife was pregnant, he said:
"I want to have a little girl first because it's like daddy's little girl. A little boy is probably going to be a little aggressive so I just want to be able to have some peace first. But whatever God blesses us with, I'm happy"
Ray J, 37, and Princess Love, 33, tied the knot in 2016 after their on-and-off relationship on the reality TV series "Love & Hip-Hop: Hollywood" since 2014.
After getting married, the two have openly shared their fertility struggles in interviews and their reality tv show. Princess shared details with In Touch Weekly about how she wanted her life to be an open book.
"I've always been an open book when it comes to showcasing my life and struggles on camera. I think that it's important to be authentic and real because there are so many people out there who can relate to your situation."
However, the couple decided to keep mum about their pregnancy until its second trimester, saying it was "bad luck to announce too early".
While they took precautions about not wanting to jinx their pregnancy, they were ultimately able to get through it and now have an adorable baby girl in their life. Congratulations, Norwoods!
Please fill in your e-mail so we can share with you our top stories!