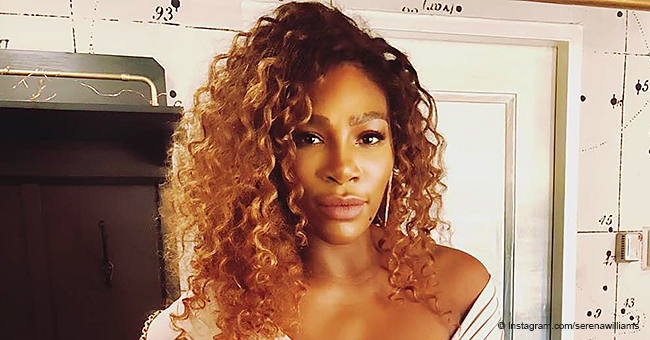 Serena Williams Called Racist after Revealing Her Plans to Invest in Women of Color
Serena Williams recently came under fire after announcing plans to invest in female business owners of color.
The globally acclaimed tennis champion is known and loved for her involvement in several causes that advance the cause of the female, but not everyone is happy with her latest partnership with dating and social networking app, Bumble.
THE MESSAGE THAT STARTED IT ALL
In an Instagram post from March 22, Williams made the call that has since turned controversial.
"Things I won't stop talking about: investing in women," she said. "Now through March 27th, @Bumble Fund applicants will get an opportunity to pitch their idea to me and @Whitney. We're working together to build a bigger, more equitable table. If you're a woman entrepreneur of color, apply through the app."
Several Instagram users flocked to the comment section, calling out Williams for her specificity on women of color and accusing her of being racist.
ANGRY FANS CALL WILLIAMS RACIST
Check out a few of those expressed sentiments below:
"Uhm...all women entrepreneurs or women of color who are entrepreneurs? Slippery slope don't do it. Say Women entrepreneurs and leave it alone." ~ @mrs.bosschic
"I don't think you realise quite how racist that is. Shocked." ~ @officialmelanieee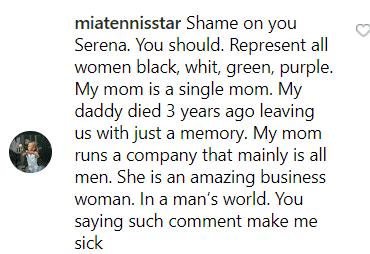 Screenshot of user's comment on Serena Williams' Instagram post. | Photo: Instagram/Serena Williams
MORE NEGATIVE COMMENTS
"@serenawilliams nice effort, sad you had to taint it with racism. Why not all women entrepreneurs?"~ @wickydownunder
"Shame on you Serena. You should. Represent all women black, white, green, purple. My mom is a single mom. My daddy died 3 years ago leaving us with just a memory. My mom runs a company that mainly is all men. She is an amazing business woman. In a man's world, you saying such comment make me sick." ~@miatennisstar
A NOBLE CAUSE
While Williams is yet to respond to the accusations of racism, tons of Instagram users took it upon themselves to defend the tennis star and remind her that her selfless act wasn't going unnoticed.
Beyoncé's mom, Tina Lawson, was one of such people, writing: "Great thing you are doing always inspiring and giving back."
Williams, a Bumble partner, was announced last Wednesday as a new investor with the app's Bumble Fund which, according to Black Enterprise, is a venture capital initiative that has "a special focus on businesses led by women of color and underrepresented groups."
DREAM COME TRUE
Essentially, the Bumble Fund had been created to focus on women of color because of a conspicuous bias in statistics even before Williams came on board.
Bumble founder and CEO Whitney Wolfe Herd addressed the collaboration in a statement, where she described Williams as "a shining example of someone making the first move in all facets of her life."
"Partnering with Serena Williams has been a dream of mine since we launched Bumble," Wolfe Herd also said.
The Bumble Fund, according to The Source, provides successful applicants with an average investment of $25,000 and a range of from $5,000 to $250,000.
Please fill in your e-mail so we can share with you our top stories!