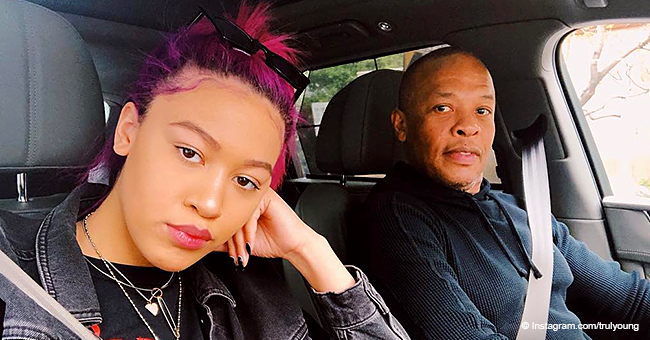 Dr. Dre Deletes Post Bragging about Daughter's Acceptance to Usc after $70M Donation Backlash
Dr. Dre and his daughter, Truly Young, are facing backlash after they proudly said that she got into the University of Southern California on her own merit. However, it was revealed that six years ago, the rapper donated $70 million to the school which might have helped in the admission process.
In a now-deleted post, Dr. Dre congratulated his daughter for getting accepted into USC on her own. While Truly is not 100% keen on going there, she made it clear, with a hint of annoyance, that her dad was pushing her to go to college there.
After being called out for allegedly bribing their way into the school six years ago, Dr. Dre, whose real name is Andre Young, deleted his social media post that bragged about his daughter's acceptance to the school.
CLARIFYING THE RUMORS
While it is true that Dr. Dre donated $70 million to the school thanks to his $850 million fortune, he poked fun at parents who were implicated in admissions scandals by saying his daughter was accepted without having to cheat her way in.
"My daughter got accepted into USC all on her own. No jail time!!!"
Likewise, the proud daughter also posted the same photo on her Instagram, this time saying that all her hard work paid off.
"All my hard work paid off. I'm going to film school."
Unfortunately for them, people ALWAYS keep receipts. After they discovered that the music producer made a large donation a couple of years back, people decided to slam them for the way they boasted of her admission.
"@ameswigg: No more bragging about your pops buying your way into USC? $70 million... damn you must have some pretty bad [expletive] grades."
"@untothesky: Congratulations on that 70 million dollar admission."
THE 2013 DONATION
Back in 2013, Dr. Dre and record producer Jimmy Iovine made the $70 million donation to USC, to create the Jimmy Iovine and Andre Young Academy for arts and technology. Of course, they also have a building named after them.
While it was made years back, it is clear that the influence of Dr. Dre is still felt in the campus up until today, which is why people are making it difficult for his daughter to enjoy the fruits of her labor. That is because they feel that one way or another, her father's influence affected her admission.
Please fill in your e-mail so we can share with you our top stories!