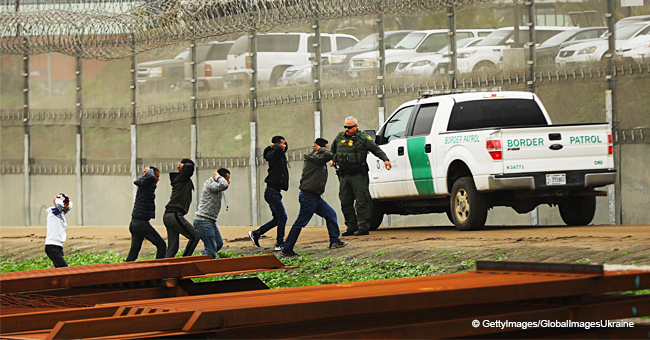 Illegal US-Mexico Border Crossings by Migrants Are Hitting 13-Year Highs over the past Month
Customs and Border Protection data has revealed that daily attempts by undocumented immigrants to cross into the United States from Mexico have risen over the past month. The numbers surpassed daily averages that have not been seen since 2006.
The surge has put a great strain on detention centers which have been maxed out.
The influx of undocumented immigrants has led the Department of Homeland Security (DHS) to approach the Department of Defense (DOD) in an attempt to get assistance with detention and care at US military bases. This was confirmed by a DHS official and two other US officials.
A defense official revealed that the Department of Health and Human Services (DHHS) has requested support from the DOD. The department asked for bed space to accommodate 5,000 children.
However, the request hasn't yet been approved. Last Wednesday, Customs and Border Protection (CBP) officers and agents caught 3,974 illegal immigrants.
It was the highest number they've ever caught in a single day since the beginning of President Donald Trump's administration. Only six other days since mid-February have beaten 3,595.
They surpassed the daily average of 3,530 in the year 2006. A DHS official explained that the seven days have become the highest on record since Trump took office.
The days were recorded over the past six weeks. US officials and a DHS official shared that they were working on a system that would allow defense funds and personnel to be used in transporting immigrants in need of medical transport.
The DHS also requested the use of DOD land to build facilities to house detained migrants while they await deportation or an asylum hearing. Trump has already deployed thousands of US military troops to the border to help reinforce existing barriers.
The army has been responsible for hanging wire over fencing which they intend to keep in place into September. The recent undocumented immigrants crossing into the US included migrants who presented themselves at legal ports of entry.
The others were those who were caught while crossing illegally. On March 12, CBP came across 2,022 migrants who arrived as part of families traveling together with their children and parents.
This group was out of 3,834 migrants who were crossing that day.
Late on Monday, Acting Defense Secretary Patrick Shanahan revealed that he'd authorized $1 billion to be used to block "up to 11 drug-smuggling corridors along the border." The money was intended for building 57 miles of 18-foot-high pedestrian fencing in support of Trump's national emergency declaration.
The following day, House Armed Services Committee Chairman Adam Smith (D-Wash.) sent a letter explaining that the move had been rejected. Smith said the transfer would jeopardize the DOD's ability to move money in the future.
Please fill in your e-mail so we can share with you our top stories!