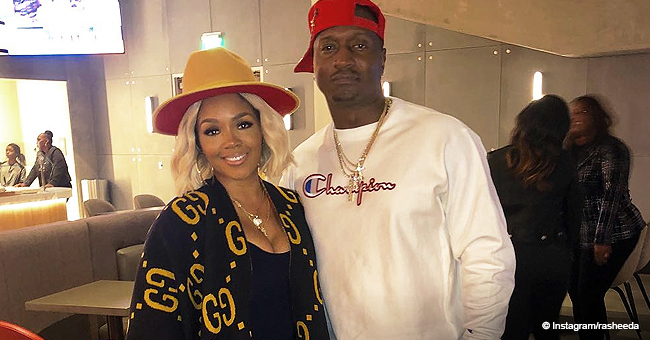 Kirk Frost's Former Mistress Goes off on Wife Rasheeda after 'LHHATL' Premiere

In the very first episode of "Love & Hip Hop: Atlanta's latest season, Rasheeda Frost had strong words of criticism for how her husband's past mistress Jasmine Washington is raising her son.
Two-year-old Kannon is Kirk's love child. In the return of "Love & Hip Hop: Atlanta," Rasheeda finally got to know the tiny product of her husband's affair from two years ago.
The 36-year-old rapper wasn't impressed though. She complained about Kennan's lack of being potty trained and other behavior she clearly didn't approve of. In a preview of the episode, she said:
"This is my first time meeting Kannon and yes, it is a bit of an eye-opener. Yeah, he is in his 'terrible twos,' but I ain't gon' lie if he was being raised in my household, ain't no Pull-Ups at two."
Jasmine took the attack personally and responded in kind via social media. The Shade Room captured an Instagram story shared by the exotic dancer.
She began:
"I was going to hold my tongue, but that really wouldn't be me, so here goes."
Another slide continued:
"First of all, anyone who thinks this is a fake storyline because what's her name said so is an idiot. I'm not too fond of my mothering skills being put into question by those that aren't even really in the picture besides when it's time to film or when it's convenient for you."
It went on:
"If you're that concerned about him being potty trained, where he's at, etc, you'd think they would be trying to put in some time and effort to help me as a first time mom. Instead, he hasn't been over there since before Xmas. They live right around the corner from me. Right after that scene, I asked what time they could drop him back off."
However, most "Love and Hip Hop: Atlanta" fans seemed to be on the "Marry Me" emcee's side since she was the one who was cheated on. Plus, Rasheeda seemed to love the little one aside from him wearing pull-ups.
She shared a picture of Kannon and Karter, her second son with Kirk. In it she was playing with the two boys. She captioned it: "Kids have so much energy... these two are a handful."
At first, Rasheeda was angry at her husband for doing what he did, even separating from him. But in the show's seventh season, she came around following 19 years of marriage with her husband. She also shares son Ky with the D-Lo manager.
The couple celebrated their anniversary in December 2018, around the same time the public got news of the paternity test that proved Kirk had fathered a child outside his marriage.
Rasheeda shared a video clip of her and her husband as she announced, "it's date night." She continued with a self-congratulatory "Happy anniversary to us!
People were criticizing the reality star for remaining with her husband. Yet Rasheeda nipped things in the bud by advising them: "Keep your comments to yourself."
Please fill in your e-mail so we can share with you our top stories!