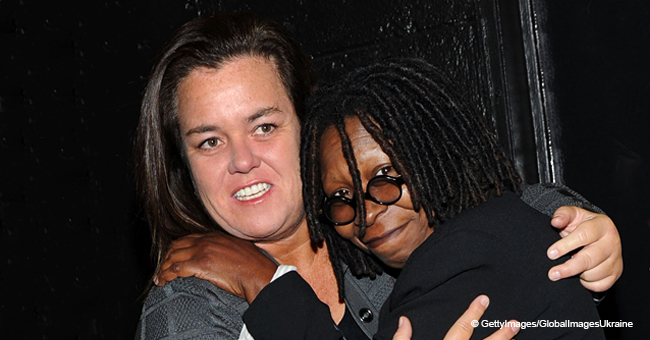 'Worse Than Fox News': Rosie O'Donnell Reveals Whoopi Was the Meanest Person to Her on 'The View'
Even though Rosie O'Donnell only co-hosted "The View" for two seasons, a tell-all book revealed that her "worst experience ever" on television was interacting with Whoopi Goldberg.
In a new book written by Ramin Setoodeh called "Ladies Who Punch: The Explosive Inside Story of The View," Rosie opened up about her time on the hit ABC talk show and her relationship with co-hosts while on the show.
While she didn't particularly get along with some of the other hosts, her relationship with Whoopi turned particularly toxic.
During her first season on the show in 2009, the rape case of the director Roman Polanski made headlines and became a topic on the show. Rosie disagreed with Whoopi when she said the director didn't commit "rape rape," even though he pled guilty to the statutory rape of the then-13-year-old Samantha Geimer back in 1979.
Whoopi didn't appreciate being challenged and sent Rosie an "angry letter," to which she responded with diplomacy. "I'm sorry if that hurt your feelings. I have different feelings about it than you. And I stand up for what I believe, but I'll never bet against you, Whoopi Goldberg," Rosie said.
When Barbara Walters retired from the show in 2014, Rosie came back for another season of "The View," but the tension between the two reared it's head again. Rosie claimed that Whoopi shot down her ideas for the show during a morning meeting and things didn't go much better on screen.
People started commenting and wanted to know what was going on between them, but Rosie merely told them to watch the show, as tension between them grew, and she had no desire at the time to publically start a feud with Whoopi.
In the book, however, Rosie had no such qualms. "Whoopi Goldberg was as mean as anyone has ever been on television to me, personally—while I was sitting there," she told the author, Ramin. "Worse than Fox News. The worst experience I've ever had on live television was interacting with her."
Despite their differences before Rosie's return to the talk show, she spoke highly of Whoopi. "She's a minority, feminist, smart, funny, groundbreaking legend who is black in America," Rosie said. "I'm never going to not have respect for Whoopi Goldberg. But that was a painful experience, personally and professionally."
The book also revealed a secret crush Rosie had on one of her co-hosts. During her first season on the talk show, it appeared to many as if Rosie and Elisabeth Hasselbeck had a constant feud going, but according to Rosie, this was not the case.
"There was a little bit of a crush," Rosie said in the book. "But not that I wanted to kiss her. I wanted to support, raise, elevate her, like she was the freshman star shortstop and I was the captain of the team."
Last month Rosie became a grandmother and proudly shared the news and pictures of her newborn grandchild.
Please fill in your e-mail so we can share with you our top stories!