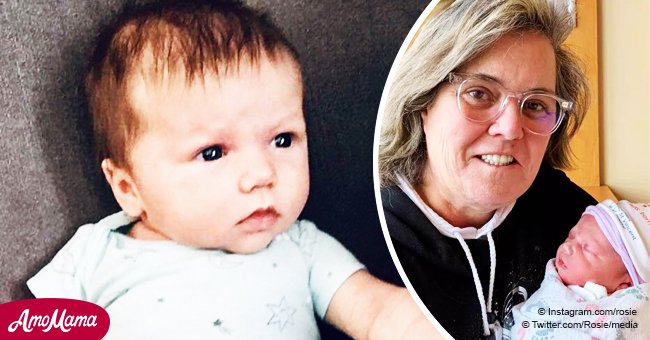 Proud Grandma Rosie O'Donnell shares photo of her newborn granddaughter

Actress and comedian Rosie O'Donnell took to Twitter to share a photo of her beautiful granddaughter named Skylar Rose.
The image portrayed the six-week-old baby girl sitting on a couch wearing light grey pants and a light blue shirt. She is Rosie's first granddaughter, born in December to the actress' 21-year-old daughter Chelsea and her partner Jacob "Jake" Bourassa.
As soon as the "Rosie O'Donnell Show" star uploaded that photo, her followers replied to it and shared their best wishes. One of them pointed out that Skylar was a baby who "makes your heart smile," while a second person said that Rossie would have a lot of fun as a grandmother.
MORE PHOTOS OF THE BABY
When the baby was born, Rosie took to Twitter to share several photos of the wonderful moment. In one of the pics, Chelsea, Jack, and Skyler were posing together still in the hospital bed clearly happy for the new member of the family.
Rosie's excitement was evident as she remarked that it was her first grandchild and added the hashtags "love," "life," and "nana." Later, the actress uploaded another image showing herself holding the baby in the most adorable way with the caption "Nana & Skylar #bigLove."
The third picture portrayed Skylar alone sleeping in a beautiful, white onesie and beanie hat. For the caption, the actress only wrote "joy." One of the most striking aspects of Chelsea and Rosie is that they only reconnected in June 2018 because their relationship was estranged.
DETAILS OF THE BIRTH
Soon after the birth, the actress went to the "Today" show to tell Savannah Guthrie and Hoda Kotb the details of the birth. She pointed out that Chelsea called her from Wisconsin and told her that she was in labor.
Rosie immediately got on a plane and sadly, she missed the birth for an hour. Later, Rossie described the moment she met her granddaughter as "really trippy," and gushed about the baby's luxuriant head of glossy black hair,
"She has a full head of black hair, like full. You can do styles with her hair, you know?" Finally, the comedian pointed out that seen her daughter that happy and with a man who loves her so much was great.
At the moment, Rosie is thrilled with her granddaughter and her fiancée Elizabeth Rooney, who announced their engagement in October last year.
Please fill in your e-mail so we can share with you our top stories!