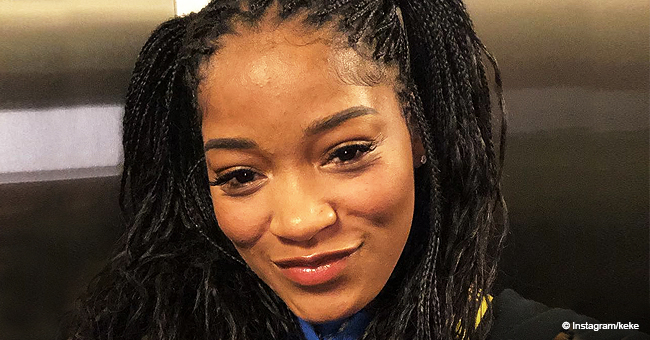 Keke Palmer Says She's 'Gonna Look 16 Forever' in Gorgeous Make-Up Free Selfie

Keke Palmer flaunted her youthful looks in a post showing off flawless skin and white teeth. The caption, however, was a bit self-criticizing.
Palmer, 25, showed off her gorgeous makeup-free face in a photo on Tuesday along with a lengthy caption. The post is found below.
The singer, dancer, and actress shared two pictures of herself which she labeled "stoplight selfies." Her seatbelt was wrapped over her and she wore a black and gold outfit.
In the start of her caption, Palmer said what we all were thinking:
"I feel like I'm gonna look 16 forever lol and I don't have any hips, I've just accepted this hahaha. You people with hips must embrace them hahaha so many of my friends with hips complain and I just wish they could share some with me!"
She continued:
"Haha maybe when I have kids. Anywho one person's trash is another's treasure, everybody has something someone else admires! Love you all."
In the comments, fans encouraged Palmer by assuring her she does indeed have some hips. Others were in awe of Palmer's glow and loved the eyelashes, the only enhancement to her natural beauty at the time.
In an interview with Coveteur magazine some time back, Palmer revealed that lashes were her "huge beauty trick." She said that they give an "extra kick" without having to "pay an arm and a leg."
Yet it wasn't just the lashes that people are attributing to Palmer's glow. Many are also pointing the finger at her boyfriend, Elvin Jackson, though we don't know how long they've been officially together after a year of dating.
Regardless, the man is beautiful just like his girlfriend. He also has a long and voluminous head of locks which he often displays on social media. Palmer certainly has some catching up to do in that department.
She and Jackson appear blissfully in love regardless. Just a few days back, Jackson shared a photo of the two of them sitting on a bedded flotation device on a pool.
In quite a public display of affection, one of Jackson's hand grabbed Palmer's breast as they exchanged grins for the sweet photo. In the caption, Jackson wrote, "she's a handful."
Fans gushed over the happy couple in the comment section and shared words of positivity. Lots of them simply appreciated seeing two stunning people.
Please fill in your e-mail so we can share with you our top stories!