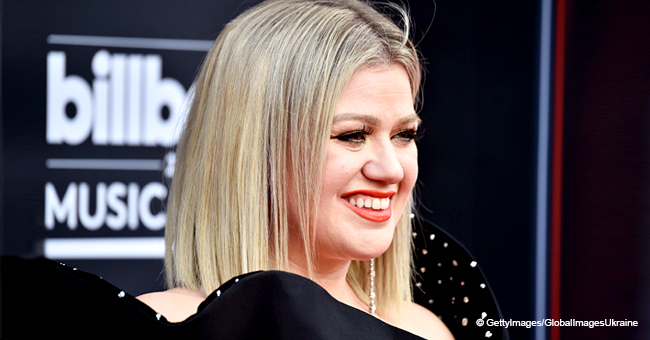 Kelly Clarkson Reminds Her Fans of Candy and Ice Cream with Her Multicolored Dress
The Voice Coach, Kelly Clarkson reminds fans of many sweet food items with her colorful dress.
Kelly Clarkson made everyone gush over her last year when she wore a glittery silver and black dress to the 15th season of "The Battle Rounds". Again this year, the 36-year-old singer has done the magic and fans won't stop talking about the tri-tope crepe dress she wore for "The Voice Battle Rounds" Tuesday night.
Kelly Clarkson hit the music industry with her huge box of talents after winning American Idol in 2002. After her big win, the "Thankful" star continued to excel in music, getting many nominations and winning several awards, including 3 Grammys.
In May 2017, the award-winning artist joined "The Voice" as Coach at the beginning of its 14th season. Kelly did great with her coaching job and created two stars in the two seasons she has been a coach. On February 25, 2019, she returned as a coach for the 16th season.
On the 8th episode of the season which launched the show's battlegrounds, Kelly Clarkson wore a beautiful three-coloured dress that got fans gushing over her.
Kelly's fans took to Twitter to describe how beautiful the award-winning artist looked, using the avenue to share what came to their minds the moment they saw Clarkson in that dress.
Some fans thought the dress looked like ice cream. A Twitter user described the dress as "Superman ice cream", and many users agreed with her.
Another user said Kelly's dress shared very much resemblance with the packaging of "Laffy Taffy". Another user said Kelly's dress reminds her of SweetTARTS.
Maybe Kelly is a really sweet person because all many of her fans say her dress resembles desserts.
Beyond the dress, many of Kelly's fans showed their admiration for the singer. They could not stop gushing over how beautiful she looked. Some described her as " gorgeous" and "beautiful", and to some, their favorite Kelly just looks like "spring in full bloom!"
It is no surprise that the singer, who has warmed her way into people's hearts through her beautiful music, is loved this much.
Kelly's great mothering skills, as seen through her two beautiful kids, her family, her philanthropy and her great work ethics make her adorable.
Fans are looking forward to seeing what Kelly will put on for the 9th episode of the show. They are also excited to see her outfit and hear her voice especially as the singer is set to host "The Billboard Music Award" come May 2019!
Please fill in your e-mail so we can share with you our top stories!