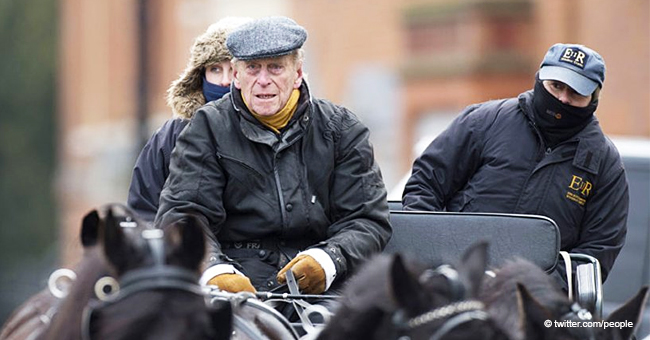 Prince Philip Spotted Driving a Horse Carriage Alone 2 Months after Involvement in a Car Crash
The 97-year-old Duke of Edinburgh had to give up his driver's license following a car accident in Norfolk in January but has found an alternative means of getting around via horse-drawn carriage.
Accompanied by his two aides, Prince Philip who is an international class carriage driver was seen in a black carriage along a public road, bundled up in a dark coat and cap.
The royal chose this mode of transportation as no license is required for it, unlike his old way of taking his Land Rover for a spin. He gave up his license voluntarily after he was involved in a collision with another vehicle carrying Emma Fairweather, who suffered a broken wrist after the accident. The Prince was unhurt by the incident, even though he was photographed driving without a seatbelt.
His Land Rover hit the Kia carrying the 46-year-old Fairweather, a nine-month-old baby, and the baby's mother, just as the Prince was leaving Sandringham.
Prince Philip wrote a letter of apology to Fairweather saying he was "deeply sorry" for what happened and hoped she would have a "speedy recovery from a distressing experience".
Fairweather came on a morning show to share the events that lead to the collision. She said,
"I'd been to see a friend for coffee, we were traveling home in her car, and we were coming across past Sandringham as we do all the time in Norfolk. And as we came past the junction at Sandringham, a stationary vehicle to the left of us made the decision to pull into our path."
A renewed interest and debate about the elderly taking the wheel became the topic once again after the high profile accident, as well as a suggestion to revisit the laws about retaking driving tests once the driver goes past a certain age, in the hopes that incidents like this can be avoided in the future.
Please fill in your e-mail so we can share with you our top stories!