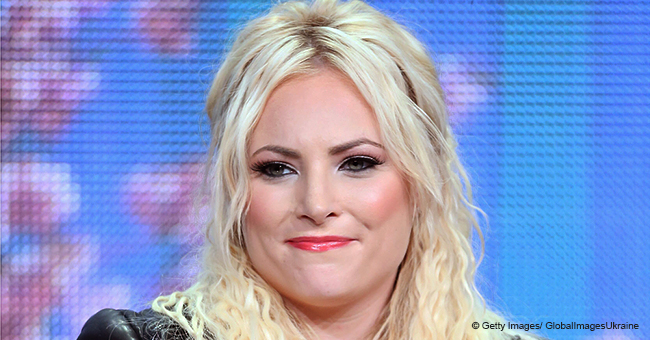 'Excited' Meghan McCain Congratulates Her 'Little Brother' Jimmy on His Wife's Pregnancy
On "The View's" Wednesday episode, co-host Meghan McCain shared with viewers that she was going to be an aunt again. She revealed that her younger brother was expecting a child with his wife.
The television host also shared the exciting news by posting a clip of the announcement on Instagram.
Senator John McCain's son, James "Jimmy" McCain, is going to be a father. He and his wife Holly, are expecting a child together.
His older sister, Meghan McCain, 34, announced the good news on an episode of "The View." She said: "Congratulations to my little brother Jimmy and my sister-in-law Holly, they are having a baby."
The television host added, "Very exciting! I'm gonna be an aunt again!" While the audience clapped she continued, "They're officially announcing. Congratulations!"
Meghan also shared the clip on her Instagram account. She captioned it: "Congratulations to my little brother @jhmmccain and sister in law @hollymccain86!!! …"
Jimmy is an ex-Marine who served a tour in Iraq. In April 2016, he and Holly got married surrounded by family and friends.
His mother, Cindy McCain, took to Twitter after the event to share an image of them posing together. She captioned the post: "Our son Jimmy McCain was married yesterday. It was a glorious day."
Jimmy is one of the private siblings in the family. However, once in a while he shares some photos of his family members on social media.
In November last year, he shared a picture of himself and Meghan holding hands. Alongside it, he wrote: "Missing this girl right now. Christmas can't come soon enough. @meghanmccain your always there for me."
On Monday, Meghan responded to conservative commentator Denise C. McAllister after she attacked her ABC talk show. At the time, McAllister had tweeted a story about "The View" which used Meghan's photo as its main image.
The commentator has written for "The Federalist," a web magazine co-founded by the television host's husband, Ben Domenech. McAllister wrote: "Can someone explain to me the purpose of The View? It seems to me to be a roundtable of delusional mental midgets ricocheting ignorance and lack of emotional regulation."
Meghan responded to the tweet saying, "you were at my wedding Denise." The statement quickly became a meme and Twitter users came forward with comments.
Trying to keep the peace, the commentator clarified:
"I think the photo on the story made it look like this was personally directed at you, Meghan. My comment was directed at The View and the mental midgets who surround you. I don't even know how you do it daily and my hat is off to you for standing strong in the midst of crazy."
Please fill in your e-mail so we can share with you our top stories!