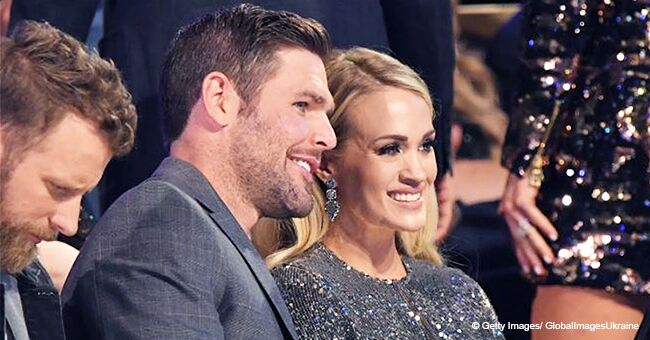 Carrie Underwood Just Shut down a Hater Who Criticized Her Little Son
An internet troll just attacked one of Carrie Underwood's son on Twitter -- and she's not having it.
Carrie Underwood recently shared a moment she had with her eldest son, Isaiah, on Twitter. The proud mom tweeted,
"My 4-year-old just told me that something is "unreasonable." Where does he get this stuff?"
Obviously, Underwood shared it because of the fact that "unreasonable" is a pretty big word for a 4-year-old to learn on his own. However, one of her followers didn't deem it cute and instead called him out for it.
He retweeted her post and commented,
"I'd have been slapped if I was a four year old speaking to my parents like that."
However, Underwood didn't have the time to start a fight, so she just shut it down and responded,
"Ha ha. It wasn't an attitude thing...he just threw it into a normal conversation."
The hater replied,
"It wouldn't have had to be an attitude thing from me either. My parents would have just slapped me for using a polysyllabic word. :D"
Underwood never replied to the response, probably thinking he wasn't worth her time but had he said worse, she probably would have defended her son.
A follower of Underwood was quick to come to her defense and called out the hater by replying,
"There is nothing funny about this. You just leave Carrie's kids alone and mind your own business!"
But of course, internet trolls are always going to respond and try to spark a fight. In reply to her tweet, he said,
"Welcome to the Internet, Karen. Where public conversations are everyone's business. You were saying?"
The tweet of the singer had no other context, aside from the fact that her son used the word "unreasonable," making the trolls tweet sound like an attack. Any other parent would also be proud of the big steps their child makes when using new vocabulary.
Underwood's son, Isaiah is not only a little vocabulary genius but also a detective at work. Her husband recently posted an Instagram story of their son who fell asleep under a coffee table while spying on them. The little boy was wearing a green dinosaur onesie while curled up fast asleep. It was too adorable!
Online haters are like a disease nowadays -- all around us and multiplying. Similarly, Toya Wright has had it with internet bashers calling her baby girl "ugly" on social media. The mom had it with all the negativity and posted on her Instagram a short rant about all the online hate going around.
Please fill in your e-mail so we can share with you our top stories!