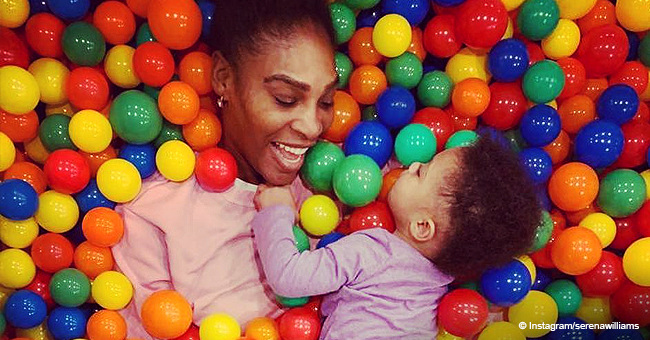 Serena Williams' Daughter Olympia Displays Perfect Set of Teeth, Smiling Adorably in Precious Pic
Alexis Olympia is a stunner in a recent pic shared to her Instagram account, and fans can't stop gushing about her adorable smile. The girl's happiness must be a ray of sunshine for her mother Serena after she was forced to retire from the Miami Open because of an injury.
She's not even 2-year-old, but Alexis Olympia is already a star on social media, with almost 600k followers on her personal Instagram account.
In her latest post, the toddler spread some joy by showing off her perfect set of teeth with a huge smile. She was pictured sitting on her cot, donning a striped white and blue dress, purple Nike shoes and a beaded amber necklace.
"Smile," the post was merely captioned.
Fans took over the comment section with positive messages for Olympia and her family. "This brightened my morning! Beautiful smile! Good morning," wrote one user.
Another added, "Mega Wattage Smile!! May you always be this HAPPY!!!" and a third one chimed in to say:
"What a genuine, beautiful smile! You can tell she is loved, and happy! Good job mom and dad!"
SPENDING EXTRA TIME WITH MOM
Olympia must be taking advantage of the fact her mom had pull out of the Miami Open last week due to a knee injury to spend more time with Serena.
It's the second time Williams retires from a tournament in the past month. Almost three weeks ago, she also retired from the third-round Indian Wells match against Garbine Muguruza citing "extreme dizziness and extreme fatigue," which was later identified as a virus.
"I am disappointed to withdraw from the Miami Open due to a left knee injury," said Williams. And continued:
"It was an amazing experience to play at the Hard Rock Stadium this year and would like to thank the Miami Open for putting on an amazing event. I hope to be back next year to play at this one-of-a-kind tournament in front of the incredible fans here in Miami."
Although the 23-times Grand Slam champion might not be in good condition to work on the tennis court, Williams has many other businesses to take care of.
THE RACIST CONTROVERSY
One of them, her partnership with the app Bumble, put the 37-year-old on the eye of the hurricane as people have accused her of being racist.
"She is talking to WOC, encouraging this particular group of women to take this opportunity and apply since she knows there are limited opportunities."
The controversy came after Williams posted a picture on Instagram encouraging female entrepreneurs to apply for the opportunity to pitch their business ideas to her and the app's founder. However, Serena was specific as for who was allowed to apply, stating in her caption:
"Things I won't stop talking about: investing in women. Now through March 27th, @Bumble Fund applicants will get an opportunity to pitch their idea to me and @Whitney. We're working together to build a bigger, more equitable table. If you're a woman entrepreneur of color, apply through the app."
While some people understood why Serena is focused on investing in women of color specifically, others found her words offensive and dividing.
MIXED REACTIONS
"@serenawilliams nice effort, sad you had to taint it with racism. Why not all women entrepreneurs?" wrote one offended user.
Another added,
"Shame on you Serena. You should. Represent all women black, white, green, purple. My mom is a single mom. My daddy died three years ago leaving us with just a memory. My mom runs a company that mainly is all men. She is an amazing businesswoman. In a man's world, you saying such comment makes me sick."
However, one user came forward to slam down the rest of the negative commenters, explaining with clarity why Serena's words shouldn't be taken out of context as "racist." The lady wrote:
"These ignorant people talking about how this is racist, questioning why is this excluding white women, etc. She is not even excluding anyone. She is talking to WOC, encouraging this particular group of women to take this opportunity and apply since she knows there are limited opportunities. What would you say to a man who says this is sexist for not including men? My guess? You would say that they have more opportunities than women and you would shut them up."
Although Serena has not addressed the name-calling, the fact that she hasn't edited her post speaks for itself. She's been open about her desire to encourage women of color through her work, and she stands by that decision.
Please fill in your e-mail so we can share with you our top stories!