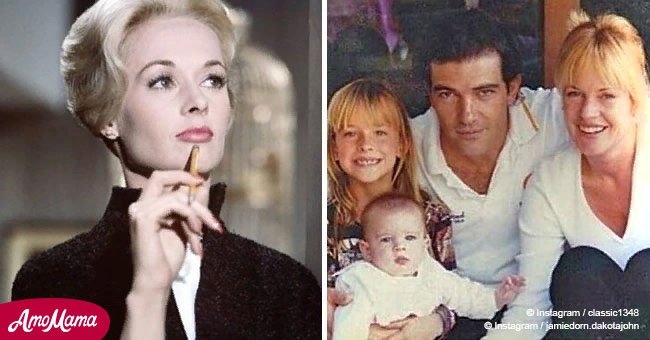 Antonio Banderas' Daughter Turned 22 Last Year and She Takes after Her Famous Grandmother
Stella Banderas is a grown-up lady already, and many people see a striking resemblance between her and her famous grandmother, Tippi Hedren.
Stella was born in Marbella, Spain as Stella del Carmen Banderas Griffith in 1996, the same year her parents, Antonio Banderas and Melanie Griffith, married.
The actress looked exactly like her mother as a little girl, but she grew up to look like her grandmother, Tippi, Melanie's mother. A quick glance at her Instagram account proves it.
Tippi is known for her roles in films such as "Marnie and The Birds." She had the most beautiful classic Hollywood look in her youth.
Stella appears to have inherited the legendary actress' alluring eyes, as well as her full lips and nose.
Her followers have noticed the similarity in her Instagram photos, with many pointing out just how much she looks like a young Tippi.
Instagram user Teresa wrote: "You look like your grandma, Tippi." Lesley Rafes added on another photo: "You look like your grandmother. Beautiful."
Some of her fans felt that she looked more like her father, or even her half-sister, Dakota Johnson.
Stella's mother, Melanie, also looked like her mother during her youth, and certainly still shares some of the same features.
Stella caught people's attention when she appeared on the Gucci Cruise 2018 fashion show at Palazzo Pitti in Florence, Italy.
The blonde beauty accompanied her half-sister, Dakota, who shot to stardom with the "Fifty Shades Of Grey" franchise.
She showed up at the Gucci event in a cream-and-black mini-dress. She paired her attire with six-inch platform wedges with red-and-black straps.
In 1999, Stella appeared in "Crazy Alabama" with her mother. She also did an episode of "Celebrity Page" in 2015.
Her parents met and fell in love on the set of "Two Much," a 1995 romantic screwball comedy film. They got that same year.
Melanie and Antonio, who announced their split in June 2014, have remained friends. They celebrated their child's milestones together. During Stella's high school graduation, the former couple was present to show their love and support.
At this point, Stella has only ever appeared in a few films. She has yet to make any move into Hollywood or the film industry.
Please fill in your e-mail so we can share with you our top stories!