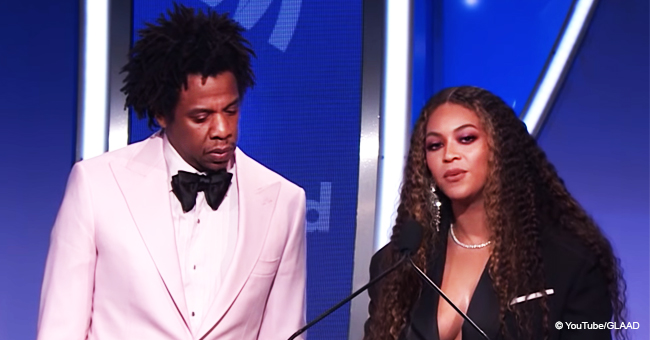 Beyoncé's Voice Cracks during Glaad Media Awards Speech as She Reveals Her Gay Uncle died of HIV

Superstar Beyonce got emotional and fought back her tears while dedicating her GLAAD Vanguard award to her gay uncle Johnny.
Music legends Beyonce and Jay-Z were honored at the 30th Annual GLAAD Media Awards at the Beverly Hilton Hotel on March 29, 2019.
The celebrity couple was jointly attributed the organizations' prestigious Vanguard Award.
BEYONCÉ STUNNED AT THE GLAAD AWARDS
The power couple stepped on stage to accept the Award with their usual verve. Beyoncé rocked a thigh length tuxedo wrap dress and spiky tulle-bedecked heels that accentuated her long stockinged legs.
Not to be outdone by his glamorous wife, Jay-Z donned a pale pink tuxedo jacket over black pants and wore a black bowtie.
JAY-Z's song "Smile" was dedicated to his mother, Gloria Carter, and featured her voice revealing she is a lesbian.
THE GLAAD AWARDS
The GLAAD Media Awards are accolades attributed by the Gay & Lesbian Alliance Against Defamation to individuals they feel have helped further the rights of the lesbian, gay, bisexual and transgender community.
BEYONCÉ DEDICATED HER AWARD TO HER UNCLE
The singer and her husband accepted their awards, and Beyoncé then made a moving speech, dedicating her achievement to her gay uncle who had succumbed to AIDS:
"(Uncle Johnny was) the most fabulous gay man I have ever met. (He) live his truth and was brave and unapologetic at a time when this country wasn't as accepting. Witnessing his battle with HIV was one of the most painful experiences I've ever lived,"
JAY-Z'S SONG SMILE REVEALED GAY FAMILY MEMBER
The audience was reminded that Jay-Z's song "Smile" was dedicated to his mother, Gloria Carter, and featured her voice revealing she is a lesbian.
The Carters have always been a family orientated couple, and have expressed their unconditional support for Gloria:
"LGBTQI rights are human rights. To choose who you love is your human right. How you identify and see yourself is your human right."
The Carters join a list of famous honorees which includes Britney Spears, Jennifer Lopez, Cher, Kerry Washington, Elizabeth Taylor, Whoopi Goldberg, Antonio Banderas, Drew Barrymore, Janet Jackson, Demi Lovato, Eric McCormack, Josh Hutcherson, and Patricia Arquette.
DAZZLING CROWN OF THE EVENING WAS BEYONCÉ MEDLEY BY SHANGELA
To honor Beyoncé, former Drag Race star Shangela Laquifa Wadley´took to the stage to perform a medley of the singer's greatest hits.
Her flawless performance had the audience, including Beyoncé and Jay-Z - on their feet and applauding enthusiastically.
Shangela was a runner-up on "RuPaul's Drag Race All Stars" Season 3 and was recently featured in Lady Gaga's acclaimed movie, "A Star Is Born."
Please fill in your e-mail so we can share with you our top stories!