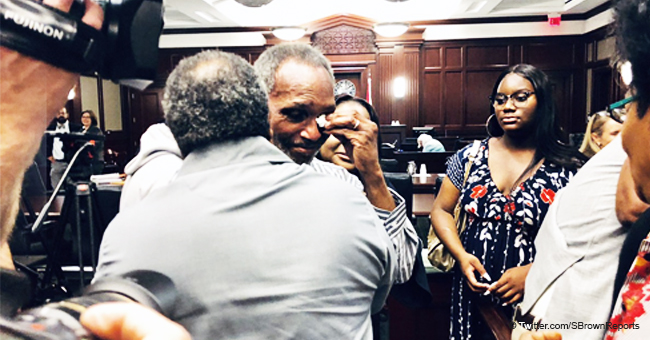 Man Kisses Ground after He and His Uncle Spent 42 Years in Prison for Murder They Didn't Commit
Uncle and nephew Clifford Williams and Hubert 'Nathan' Myers were released from a Florida prison after being incarcerated for 42 years for a crime they didn't commit.
Two men were finally released on March 28, 2019, and took their first steps in freedom.
Clifford Williams, 76, and Hubert 'Nathan' Myers, 61, are the first convicted felons released in Jackson, Florida since the state attorney's office started reviewing claims of wrongful conviction
CONVICTED FOR MURDER AND ATTEMPTED MURDER
On exiting the courtroom where his conviction had been overturned, Myers kissed the ground.
The two men had been convicted for the murder of Jeanette Williams and the attempted murder of her girlfriend, Nina Marshall in 1976, but both always maintained their innocence.
According to the Innocence Project, 2.3 to 5% of all prisoners in US jails are innocent.
CONVICTION WAS BASED SOLELY ON EYEWITNESS ACCOUNT
Although she and Jeanette had been asleep when they were shot, Nina identified Williams and Myers as the shooters.
There was no physical evidence linking the men to the crime, but they were found guilty based on her testimony.
CONDEMNED TO DEATH
Williams was originally sentenced to death by the judge, but an appeal four years later commuted the sentence to life in prison.
This, despite the fact that evidence showed that the victims were shot from outside a window, not by men standing at the bottom of the bed as Marshall had claimed.
INNOCENCE PROJECT AND STATE ATTORNEY WORK FOR JUSTICE
The two men's alibi at a nearby party was confirmed by several witnesses and ignored by the court, and Myers learned in 1996 that another man had confessed to the crime.
Williams and Myers wrote to the Innocence Project and set the ball rolling. An investigation was initiated, at the end of which the State's Attorney requested that their sentence be vacated since the State now believed the men to be innocence.
SAVED BY THE INNOCENCE PROJECT
Clifford Williams and Hubert Myers owe their long-awaited freedom to the hard work and dedication of the men and women of the Innocence Project.
The Innocence Project is a non-profit legal organization that has been working to free people wrongly convicted of crimes through the use of DNA testing - a technique that did not exist until the late 80s.
According to the Innocence Project, 2.3 to 5% of all prisoners in US jails are innocent.
Clifford Williams and Hubert Myers join the 362 wrongfully convicted people freed based on new DNA evidence by the Innocence Project.
Please fill in your e-mail so we can share with you our top stories!