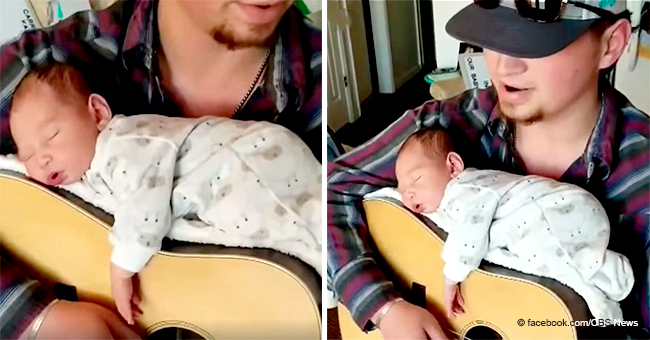 Country-Singing Father Lullabies His Newborn Daughter with His Guitar Playing While She Is on It
A country father and his newborn daughter turned into overnight stars after a cute video of them went viral on social media.
The heartwarming video that has so far gathered over 70 million views on Facebook shows Cody Comer, an aspiring country singer, singing a sweet lullaby to his 2-week-old daughter.
While the Missouri-based singer belts out the words to the famous "Twinkle Twinkle Little Star," his cute daughter, Carrigan, is sleeping cozily on top of his guitar.
Cody Comer and his daughter. | Source: Cody Comer
Comer explained in the caption to the video that his wife had asked him to get Carrigan to take a nap. "...so we took a nap daddy's way! And it works every time!" he added.
The video has also been shared more than 1.5 million times, making it go viral on the social media. More than 98,000 people have taken time to comment about the video and gush about the sweet father-daughter moment.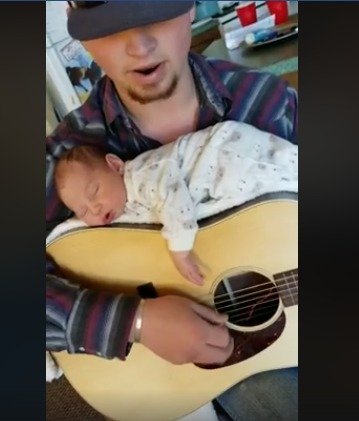 Cody Comer and his daughter. | Source: Cody Comer
Speaking to KFVS12 about his viral video, the singer explained the events leading up to the sweet moment.
"I was sitting in here picking the guitar ... and I didn't really want to stop playing guitar, so I just eased her up on the guitar and started playing and she just went to sleep," Comer said.
Comer confessed that he never expected the video to go viral. He wanted to share the video because he thought the moment was "kinda cool."
Carrigan's mother credited her daughter's cuteness for the video's success. "It's just crazy how much people love babies, and how fast it happened, all of it," she told the news outlet.
Mindy Comer, Comer's mother, explained the probable reason behind Carrigan being so easily serenaded by her father's music.
"So, she was in the womb hearing him sing her to sleep, so, on day one, he started singing to her and she would fall right to sleep," Mindy explained.
Meanwhile, the doting father stated that he cannot wait for Carrigan to grown up and see the video.
Previously, a video of a mother singing a sweet song to her baby also went viral on the internet.
The cute video shows the little child getting emotional and moving to tears because of her mother's song.
Please fill in your e-mail so we can share with you our top stories!