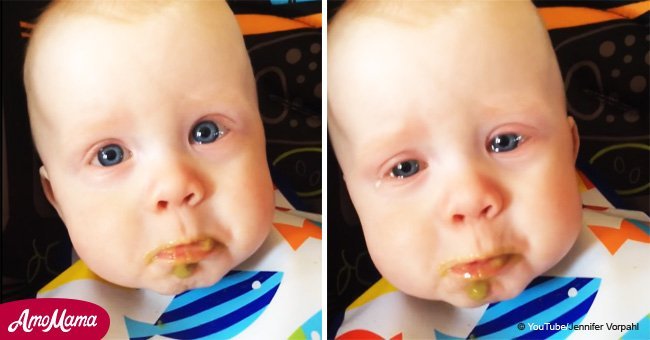 Tiny baby literally moved to tears when mom sings 'Good, Good Father' (video)
An adorable video of a child's reacting to his mother's voice showcased the immense power that music has over us.
A mother uploaded a video on Newsflare that showed an emotional moment when her baby reacted with tearful eyes to her singing.
There is no doubt that music has tremendous ability to touch hearts and overwhelm us at times. But the video recorded by this mother proved that even the young babies who can hardly understand music can most certainly feel it.
The emotional video clip was recorded in 2016 in Dickson County while the mother was feeding her little son while at the same time singing him the religious song.
The video shows the mother singing the song Good Good Father by Chris Tomlin to her son, Leland, in a melodious voice.
When she begins singing the song, little Leland becomes completely attentive and listens closely to his mother's voice with a slightest of smiles on his face.
As the mother continues to sing, Leland's expression slowly changes. The smile slowly fades and there is a sudden change in his eyes.
The mother is surprised by her son's reaction but she continues to sing anyhow. A few moments later, Leland becomes completely serious and focused on his mother's face. In his eyes, there can be seen the slightest hint of tears.
With glassy eyes, he continues to watch his mother whose voice has grown a bit softer because of her baby's surprising reaction to her voice.
As the mother continues to sing, Leland finally becomes overwhelmed with emotions and his eyes are now completely in tears. From a corner of his eyes, a single drop of tear flows down to his cheek.
Please fill in your e-mail so we can share with you our top stories!