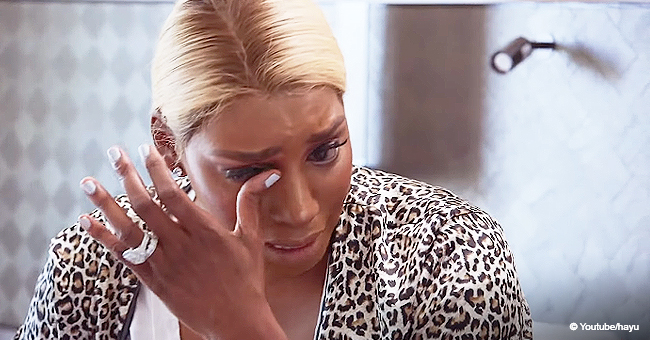 NeNe Leakes Gets Emotional after Kenya Moore Surprise 'RHOA' Arrival: 'You Ain't the Queen, B****'
Kenya Moore is once again in the middle of a ruckus at the "The Real Housewives Of Atlanta" Season 11 finale after she showed up unexpectedly at Cynthia Bailey's party.
Fans who were eagerly waiting for the Season 11 finale of "The Real Housewives Of Atlanta" got all the drama they could handle as NeNe Leakes and Kenya Moore measured forces at Cynthia Bailey's event.
AN UNEXPECTED GUEST
Cynthia set the cat among the pigeons by inviting Kenya to the launch party for her signature peach Bellini drinks for Seagram's.
NeNe was blindsided and expressed her anger in no uncertain terms:
"I'm really afraid our friendship will end forever.(...) I'm your sister, I'm your friend, and you wouldn't let me know. That's how you roll?"
NeNe was angered and hurt by what she perceived to be Cynthia's betrayal in inviting her arch-enemy to her event.
KENYA MOORE'S BIG ENTRANCE
The heavily pregnant Kenya arrived and made her presence felt in a skin-tight orange dress that showed off her baby bump. As soon as she saw her, NeNe commented:
"Oh, I think a monster's here."
NENE LEAKES ACCUSED CYNTHIA BAILEY OF BETRAYAL
NeNe was angered and hurt by what she perceived to be Cynthia's betrayal in inviting her arch-enemy to the event. Cynthia responded by pointing out that she is friends with both women, and never meant to hurt NeNe:
"The only thing I wanted was for my friends to come on my night. I didn't think for one second that you couldn't be big enough to be in a room with Kenya. I don't even have to give an excuse."
GREGG LEAKES' FIRST OUTING SINCE CANCER DIAGNOSIS
The occasion was special for NeNe as it was her husband Gregg Leakes' first public appearance since he was diagnosed with colon cancer.
Kenya sweetly wished Gregg a speedy recovery, while NeNe watched, blank-faced but visibly seething. As her former co-star walked away, NeNe snapped:
"She's going to have a buffalo, isn't she?"
Other guests at the party expressed their disapproval. They believe NeNe should have put her differences aside and shown more support for Cynthia.
Cynthia and NeNe had a sit-down the next day and talked things out. RHOA fans will be relieved to know they are still good friends.
CYNTHIA'S BOYFRIEND SPRINGS SURPRISE PROPOSAL
Not all the surprises at Cynthia's event were unpleasant. In fact, one of them was pretty romantic. Cynthia's boyfriend Mike Hill startled the reality star by blurting:
"Babe, can we get married next year? No more playing. I've never been so sure in my life."
Mike hinted about having a baby reveal party, and the smiling Cynthia joked that he was barred from the bar.
RHOA fans can look forward to another lovely wedding for the forthcoming Season 12 of "The Real Housewives of Atlanta."
Please fill in your e-mail so we can share with you our top stories!