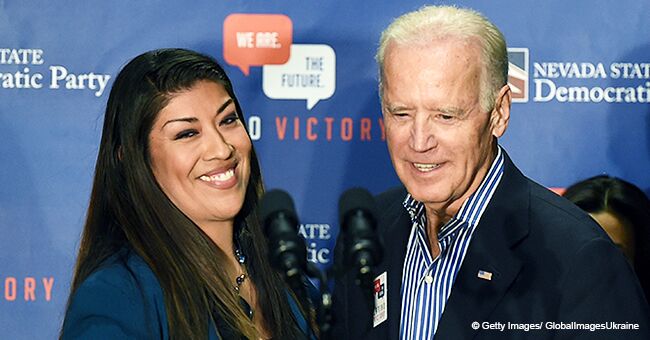 'I Was Mortified': Former Nevada Politician Reveals Joe Biden Kissed Her Head without Consent
Lucy Flores shares how former Vice President Joe Biden touched her shoulders and kissed the back of her head without her consent. She hasn't seen him the way since.
In an article published by the Cut, former Nevada politician, Lucy Flores, revealed her uncalled for experience with former Vice President Joe Biden. She started by painting a picture of what she was at that time - a 35-year-old politician running for lieutenant governor in Nevada. It was 2014 and only days before the election that Biden went out to support Flores and the other Democrats who were running for a position.
She narrated how the awkward moment went about,
"As I was taking deep breaths and preparing myself to make my case to the crowd felt two hands on my shoulders,"
She wrote.
"I froze. 'Why is the vice-president of the United States touching me?"
"I felt him get closer to me from behind. He leaned further in and inhaled my hair. I was mortified. I thought to myself, 'I didn't wash my hair today and the vice-president of the United States is smelling it. And also, what the actual [expletive]?"
She continued writing about the moment things got worse,
"He proceeded to plant a big slow kiss on the back of my head. My brain couldn't process what was happening. I was embarrassed. I was shocked. I was confused."
She continued,
"I couldn't move and I couldn't say anything. I wanted nothing more than to get Biden away from me. My name was called and I was never happier to get on stage in front of an audience."
Following the incident, Biden's spokesperson told the Washington Post, that they did not have,
"An inkling that Ms. Flores had been at any time uncomfortable, nor do they recall what she describes."
He continued,
"But Vice President Biden believes that Ms. Flores has every right to share her own recollection and reflections, and that it is a change for the better in our society that she has the opportunity to do so."
"He respects Ms. Flores as a strong and independent voice in our politics and wishes her only the best."
Although the encounter Flores had with Biden was somewhat horrific, she knows that he did technically did not break any laws. However, he did break a basic rule that anyone, especially a high profile politician should know -- respect. She further acknowledged his power and called him out for his actions.
"Biden was the second-most powerful man in the country, and, arguably, one of the most powerful men in the world. He was there to promote me as the right person for the lieutenant governor job. Instead, he made me feel uneasy, gross and confused. The vice-president of the United States of America had just touched me in an intimate way reserved for close friends, family, or romantic partners -- and I felt powerless to do anything about it."
She continued,
"I'm not suggesting that Biden broke any laws, but the transgression that society deems minor (or doesn't even see as transgressions) often feel considerable to the person on the receiving end. That imbalance of power and attention is the whole point -- and the whole problem."
Biden released a public statement in reply to Flores' allegations but did not say sorry in any way.
"I may not recall these moments the same way, and I may be surprised at what I hear. But we have arrived at an important time when women feel they can and should relate their experiences, and men should pay attention. And I will."
Following his reply, Flores told CNN,
"I'm glad that he's willing to listen. If he is saying that he never believed that that was inappropriate, then frankly I think that's a little bit of a disconnect."
"I want him to change his behavior, and I want him to acknowledge that it was wrong,"
She continued.
Upon the outbreak of the news, other parties who personally know Biden wondered if the allegations were true od not. It is not unsual to doubt and accusation, especially if the accused is someone you personally know or closely work with. Additionally, former senior staff of Biden commented on the issue saying that Biden,
"Treated us with respect and insisted that others do the same."
Other Democratic politicians also commented on the issue. Sen Amy Klobuchar said that there was no reason why she should not believe Flores. On the other hand, Sen. Bernie Sanders came to the defense of Biden saying that he does not think,
"One incident alone disqualifies anybody."
These kinds of accusations are nothing new to news outlets. In fact, they often happen. The same thing happened mid last year when a taxi driver was accused of having touched a little girl in a Colombian town, on her way to school. However, accusations for politicians behaving as such only happens once so very often.
Please fill in your e-mail so we can share with you our top stories!