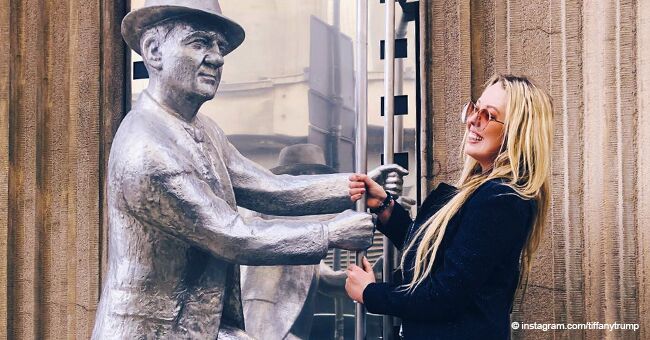 Tiffany Trump's Spring Trip to Serbia Could Reportedly Cost the U.S. Government around $23,000

Tiffany Trump's recent vacation in Serbia is raising some eyebrows because her stay in the country cost the U.S. government at least $23,000, according to a report.
The 25-year-old President Donald Trump's daughter went to Eastern Europe on vacation from March 7-16. Quartz reported that the State Department spent no less than $23,000 in hotel rooms in Belgrade, Serbia in support of her travel.
This isn't the first time that the U.S. government faced criticism because of an expensive trip.
Although the socialite was not on official state business, she still gets complete Secret Service protection when she travels since she's a member of the president's immediate family.
Tiffany headed out to Serbia with her boyfriend, Michael Boulos, whose family established SCOA Nigeria and Boulos Enterprises. While there, she took to Instagram to share a photo of herself dancing with a statue.
THE COUPLE'S LOVE STORY
Tiffany first met Michael at Lindsay Lohan's Greek club in 2018, but the couple kept their relationship private for a while.
On January, Tiffany, who split from longtime boyfriend Ross Mechanic in 2017, has gone public with her new boyfriend by sharing a photo on Instagram, apparently taken at her father's official residence. She even tagged Michael on the post.
FACING CRITICISM
Meanwhile, a Trump Organization spokesperson didn't answer to inquiries regarding Tiffany's vacation. This isn't the first time that the U.S. government faced criticism because of an expensive trip.
A year ago, a family business trip to India by President Donald Trump's eldest son, Don Jr., cost the taxpayers $97,805.
The taxpayers were also left footing a bill of $97,830 when Eric Trump traveled to Uruguay in 2017 for a Trump Organization promotional trip. Don Jr. and Eric were declared by their father as the leaders of the Trump Organization.
After Donald Trump won the presidency, he said that he'd separate himself from his businesses to stay away from conflicts of interest in the office. However, the President's ties to his businesses have been an ordinary subject of criticism and legal challenges.
Please fill in your e-mail so we can share with you our top stories!