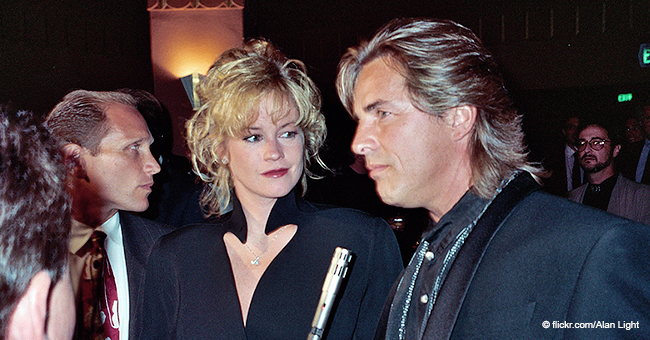 Here's How Don Johnson Found Love Again after Two Failed Marriages with Melanie Griffith
Miami Vice star Don Johnson was very much a ladies man throughout his adult life, but today he is happily married and living a quiet life with his love, Kelley Phleger.
Leading Man
Johnson has tied the knot five times, twice with actress Melanie Griffith. The two first met through Griffith's mother Tippi Hedren, his co-star, while working on the film "Harrad Experiment." Melanie was only 15-years-old at the time, so they waited until she turned eighteen to get married. Their first union lasted only a few months.
During their time apart he had a son, Jesse Wayne Johnson, with girlfriend Patti D'Arbanville. But he soon moved on to date other women including Barbra Streisand, before reuniting with and marrying Melanie Griffith once more in 1989. They managed to stay together longer, around seven years and had their daughter, actress Dakota Johnson.
Second Act
At his prime, Johnson had everything that he thought would make him happy. Success for him meant his stellar career, wealth, fancy friends and parties, but something was still missing. He said,
"I had what everyone assumes are the elements that make you happy, and I was intensely unhappy."
He found himself on a new path of enlightenment with Buddhism and New Age study, which gave him a second chance at love, too. He met and married nursery school teacher Kelley Phleger in 1999, and have three children together. He teases about his good fortune saying,
"I had a rare moment of clarity and asked this woman to marry me, and I still think that she's under a spell. And so I beg of you not to snap your fingers because God knows what will happen if she ever comes to."
Good Genes
Today, two of Don Johnson's kids have joined him in the world of acting. Dakota has made waves with her role as Anna in the "Fifty Shades of Grey" trilogy.
But most people don't know that Don's 36-year-old son, Jesse, got his father's dashing good looks, too, and even co-starred with his dad in the CBS TV show "Nash Bridges." Jesse's other projects include the films "Redline" and "Killing Lincoln," which impressed movie critics.
Jesse shares old and new photos of himself with his famous father on his social media.
He once greeted his father with a post captioned,
"Happy birthday to the coolest guy I know. I get to call him Dad."
Please fill in your e-mail so we can share with you our top stories!