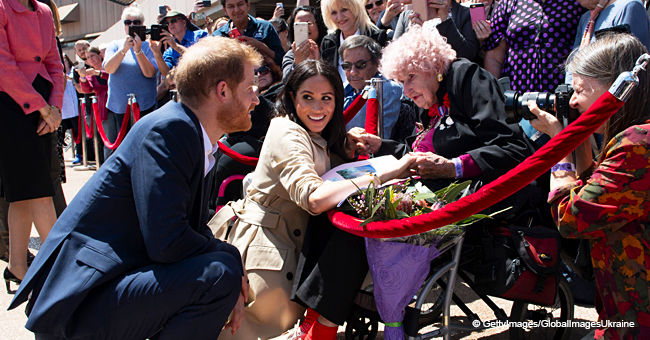 Prince Harry's 'Biggest Fan,' Daphne Dunne, Passed Away Aged 99
Daphne Dunne was the self-proclaimed "biggest fan" of Prince Harry. She sadly died on Monday after failing to beat a bout of pneumonia.
The elderly woman had met, greeted, and spoken to the Royal three times over the years. She was even lucky enough to be introduced to Harry's wife.
Daphne Dunne, 99, was a former servicewoman who had the pleasure of meeting Prince Harry on three different occasions. The most recent meeting was last year in Australia when Dunne captured Prince Harry's attention amongst a crowd.
At the time, the Royal had rushed over to her while she waited in a wheelchair outside at the Sydney Opera House. The two embraced warmly and Harry introduced her to his new wife, Duchess Meghan.
In 2017, Harry visited Sydney again on Royal duty. Hearing about his visit, Dunne sat outside Admiralty House but she missed her chance to see him.
She then moved down to Circular Quay where it was drizzling but she still managed to catch his attention. He hugged her saying. "Oh, it's you."
The pair first met in 2015 at the Opera House where the elderly lady cheekily stole a kiss. Harry's "biggest fan" caught his attention by wearing a replica of her husband's Victoria Cross.
Dunne loved the prince for his work with veterans. In an interview, she explained: "He does a lot for everyone but he seems to dote on soldiers that have been wounded, and they've had some part of them amputated, that's the reason, it doesn't matter about me, he helps make them feel a bit better."
Her passing came just days after Harry sent Dunne a letter to congratulate her on her 99th birthday. The letter read: "Dear Daphne, my wife and I send our warmest wishes to you on the occasion of your 99th birthday on Friday."
He added:
"We hope you have a wonderful celebration surrounded by family and friends and that you've managed to escape hospital! Congratulations on reaching this important and impressive milestone before your centenary year next year. Harry and Meghan."
In late March, Dunne's daughter, Michelle Haywood revealed that Harry's letter had lifted her mother's spirits. She said: "Meghan and Harry have gotten mum through this terrible illness she's had. She's still very unwell and I think, you know, if anything, the card they sent means so much."
Dunne's family took to Instagram to announce her passing. They said she was a "truly special lady" who would be greatly missed.
Their note also read:
"It is with the saddest of hearts that I would like to share the news that our most beloved mum and nanna, Daphne Dunne, passed away peacefully yesterday morning. She was a truly special lady who will be greatly missed by so many."
Adding:
"We, her family, would like to thank everyone for the love and support they showed Daphne. She spent a large part of her life representing the women of the Australian Army and her two husbands Lt. Albert Crowne VC MM and John Patrick Dunne, ensuring that their service to Australia was never forgotten."
They concluded:
"It is fitting that Daphne passed away on the first of April as it is a month of renewal, remembrance and reunification with her loved ones that passed before her. We love you mum/nanna/Daphne, always and forever."
Crowne died at the age of 25 in 1945, just a year after they got married. His machinegun post in Papua New Guinea was attacked by the Japanese.
Dunne then married Corporal John Dunne, who was captured in Malaya in 1942.
Speaking about her first meeting with Harry, Dunne revealed that "He [Prince Harry] asked me about the Victoria Cross. He said he recognised that and wanted to know all about it."
The original Victoria Cross had been awarded to Dunne's first husband Crowne. It now sits in the Australian War Memorial (AWM) in Canberra along with a Military Medal which was also awarded to Crowne in World War II.
Please fill in your e-mail so we can share with you our top stories!