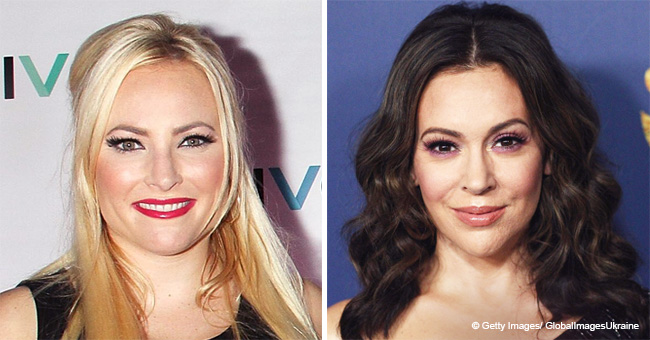 Meghan Mccain and Alyssa Milano Show Support for Joe Biden Amid a Second Accusation
Joe Biden faced his second accusation of touching a woman and making her feel uncomfortable when Amy Lappos came out with her story. McCain and Milano were quick to defend Biden through tweets that described the good person he really is and argued that he had no wrong intent.
In a Tweet posted last Monday, Meghan McCain and Alyssa Milano showed support for Joe Biden who is currently being accused by two women of inappropriately touching them.
McCain, co-host of "The View," described Biden as "one of the truly decent and compassionate men in all of American politics." She also shared how the potential 2020 candidate was with her through her father, Sen. John McCain's, journey with brain cancer last year. Sadly, her father lost the battle with cancer and died in August.
A few hours before, Milano likewise posted a series of tweet sharing the goodness of Joe Biden and his true intentions.
She said:
"I believe that Joe Biden's intent has never been to make anyone uncomfortable, and that his kind, empathetic leadership is what our country needs. Especially now."
She also mentioned Biden's social movement, "It's On Us," which aims to stop sexual assault and spread awareness on the topic.
"Biden started Its On Us because he believes to meaningfully change our culture, everyone -- including those often left out of the conversation like college athletes and fraternity brothers - needed to be part of the movement."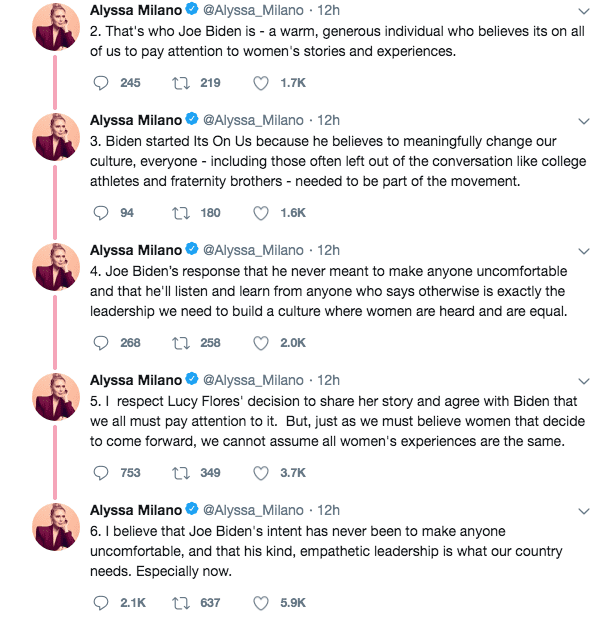 Twitter/Alyssa_Milano
Two women have recently shared their experience with Biden's improper behavior towards them. The first accusation was made by Lucy Flores last Friday through an article published by The Cut.
She narrated how Biden, who was then the vice president, touched her shoulders, smelled her hair, and kissed the back of her head, while showing support for her campaign, in which she was running for lieutenant governor in Nevada.
Flores wrote:
"As I was taking deep breaths and preparing myself to make my case to the crowd, I felt two hands on my shoulders. I froze. 'Why is the vice-president of the United States touching me?'"
She continued her story saying:
"He proceeded to plant a big slow kiss on the back of my head. My brain couldn't process what was happening. I was embarrassed. I was shocked. I was confused."
Biden responded to this allegation through a statement released to NBC News.
"In my many years on the campaign trail and in public life, I have offered countless handshakes, hugs, expressions of affection, support and comfort," Biden said.
"And not once — never — did I believe I acted inappropriately. If it is suggested I did so, I will listen respectfully. But it was never my intention. I may not recall these moments the same way, and I may be surprised at what I hear."
After the release of Flores' article, another woman came out with similar accusations towards Biden through an interview with a Connecticut newspaper.
Amy Lappos shared her encounter with the former vice president which happened in 2009 at a fundraiser in Greenwich, Connecticut. Lappos assisted US Rep. Jim Himes at that time.
"It wasn't sexual, but he did grab me by the head, says Lappos."
"He put his hand around my neck and pulled me in to rub noses with me. When he was pulling me in, I thought he was going to kiss me on the mouth."
Lappos' decision to come out with her story was because of Biden's response to Flores' accusations. She said:
"Referring to this type of behavior as 'simply affection' or 'grandpa-like' or 'friendly' is ridiculously dismissive and part of the problem. Saying 'but Trump…' is dangerous and sets the bar for Democratic men far below where it should be."
"If Bidden truly supports women and gender equality he would step aside and support one of the many talented and qualified women running. The same goes for the other men who have thrown their hat in the ring. Women are 52% of the population. We are not a minority, we are the majority. It is time we are represented as such. After 45 male presidents it is time we elect a woman," she continued.
Biden has not made a final decision on whether he will be running for the 2020 presidential elections, but speculations point to him running. The accusations made by the two, however, will not affect his choice to run.
Please fill in your e-mail so we can share with you our top stories!