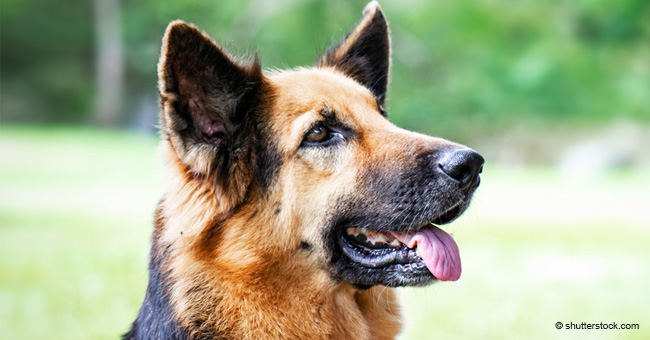 Loyal Police Dog Takes One Last Walk before Being Put down and the Whole Town Honors Him

The Saugus Police Department announced on Facebook that one of their workers had been diagnosed with terminal cancer.
K-9 Bruin, an active member of this department for the past eight years, was honored by his brothers in blue uniform with a final trip through the streets he loved to patrol and protect selflessly.
Unfortunately, Bruin's health had deteriorated and it was a very aggressive cancer, causing him pain and discomfort. "How do you say 'well done' to a great partner, a great friend, and official brother?" Saugus police wrote on Facebook.
Bruin's partners thought that this farewell would be an excellent way to thank him for everything the dog had done for them, before he died. Hundreds of people lined the streets with signs and pictures of Bruin to thank him while patrolling the community for the last time.
The neighboring police departments also helped with the final trip, and all the first responders stood with their hands over their hearts waving the flag with the thin blue line while Bruin patrolled.
"Bruin holds a special place in the hearts of all our members and the Saugus community in general," wrote the Saugus police patrol officers union on Facebook.
Bruin lived with Officer Tim Fawcett, his wife, and their three children, who have worked hard to keep the veteran dog as comfortable as possible during his last days.
The Fawcett issued the following statement:
"We would like to thank each and every one of you during this difficult time. Of the calls, the texts, the cards, the visits to our house, the citizens who surrounded the streets of three towns and the brothers and sisters who accompanied Bruin on his final journey. We never imagined a tribute like this. It was simply and truly amazing to see the manifestation of sympathy and love that was shown to us. Bruin touched so many lives in many different ways and will never be forgotten. Rest quiet. Good boy, your clock is over."
This story reminds us of another K-9 officer who is currently recovering after being shot wounded while patrolling in the middle of the night.
The St. Petersburg Police Department released a photo showing that Titan is doing very well and is currently on antibiotics and pain meds, they expect him to be back home in a few days.
The bond between a man and his dog can become very strong. Proof of that is another story that has broken thousands of hearts on the Internet.
Duluth Police identified a four-year veteran with the department found injured, as officer Aaron Haller; he was K-9 handler to Haas for the last two years. Aaron was finally released from the hospital, but Haas, unfortunately, didn't make it.
Please fill in your e-mail so we can share with you our top stories!