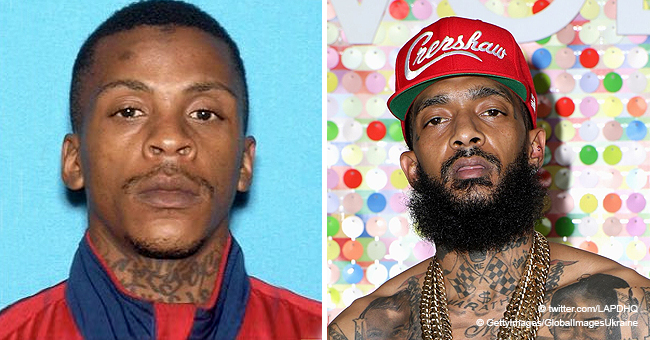 Suspect In Grammy-Nominated Rapper Nipsey Hussle Murder Captured In Bellflower

Police took the suspect in Nipsey Hussle's murder into custody on Tuesday afternoon just hours after pleading with the public to identify the suspect and turn him in.
On Tuesday morning, the Los Angeles police chief, Michel Moore, appeared on TV news cameras and revealed the identity of the alleged killer of Grammy-nominated rapper Nipsey Hussle. He asked the suspect to give up and turn himself in.
However, the suspect, Eric Holder, 29, in the fatal shooting of Grammy-nominated rapper Nipsey Hussle was captured later that day. He was arrested in the L.A. suburb of Bellflower after police spotted him.
Police had used surveillance video and social media posts by witnesses to identify the 29-year-old. Holder is the primary suspect as the alleged gunman who shot Hussle and two other men on Sunday afternoon in front of the rapper's clothing store in south Los Angeles.
Moore described Holder as "a man who is a substantial risk to public safety and willing to use violence" before he was arrested. Moore also revealed that even though Holder is believed to be in a gang, the slaying appears to have occurred because of a personal dispute between the two men.
"It appears to be a personal matter between the two of them," said Moore but declined to givve details of the conflict.
Security cameras from nearby businesses captured the shooting as it unfolded around 3:20 p.m. on Sunday. The chief revealed that witnesses claim that Holder and Hussle, 33, got into an argument in front of his clothing store, The Marathon.
Hussle was hit multiple times, including shots to the head and torso, according to the Los Angeles County medical examiner's office. Moore revealed Holder ran from the scene and escaped in a 2016 white Chevrolet Cruze driven by an unidentified woman. The vehicle was abandoned nearby.
The alleged getaway driver spoke to detectives on Tuesday night. According to sources, she was not arrested.
Hussle has acknowledged an affiliation with the Rollin 60s Neighborhood Crips, one of Los Angeles' biggest and most notorious street gangs, in a 2010 interview with Complex magazine. However, he later began working with authorities to help end gang violence.
Please fill in your e-mail so we can share with you our top stories!