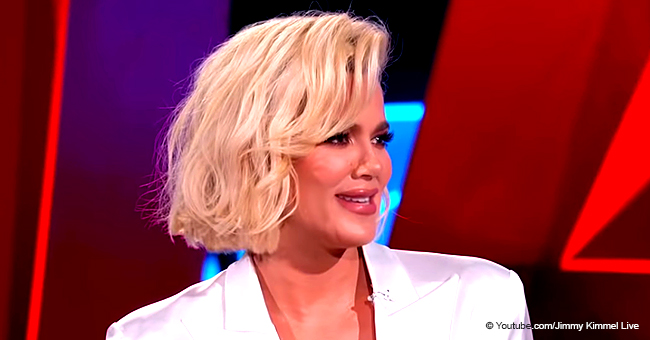 Khloé Kardashian Answers Question about Still Dating Basketball Players after Tristan Cheated
Khloe Kardashian faced a tough question from Jimmy Kimmel about whether or not she would continue to date basketball players and she gave quite a stubborn answer.
The 34-year-old joined sisters Kourtney and Kim Kardashian on the "Jimmy Kimmel Live" show on Monday night. Before going into it, Kimmel asked the girls if they had been to Las Vegas as children. The entire video is found below.
Kourtney and Kim said they had been there on a family trip and did some skiing. Kim also revealed that as kids, they used to pull the slot machine handles. Kimmel informed them that that was illegal and they could have been arrested.
The host later inquired about how the sisters would come to a decision on their children's names. Kim said that she "definitely takes a family survey, but it's usually after the baby's born."
She went on to explain that the baby is nameless for up to four days until she "feels it really connects with them." As for baby number four who is on his way, Kim said that she was considering naming him Rob after her brother, but it doesn't "really go" with the rest of her kids' names.
Kimmel agreed that you can't name a baby until you've seen the baby. Kourtney then revealed that she would "try out different names on different days." She knew her child's name was Rain because she knew it in her soul, she said.
Kimmel then addressed Kourtney's upcoming 40th birthday and followed it up with Kim's husband Kanye West wanting to move to Chicago. Kim said she would be happy to spend more time there but they probably weren't going to move.
Finally, Kimmel touched on the juiciest topic involving Tristan Thompson cheating on Khloe. Not saying his name, Kimmel referred to Thompson as the "character" that Khloe had a baby with.
He asked:
"Is it time to stop dating basketball players?"
Khloe let the audience respond with shouts of "yes" or "no" at first then answered:
"I like what I like, what can I say?"
She told Kimmel that she does like basketball though she doesn't play. "It's the whole thing of it all," she said. She then admitted that she probably should have listened to her grandmother who told her to date accountants.
Thompson is the third basketball player that Khloe has dated. She was married to Lamar Odom from 2009 to 2013. In 2015, she started dating James Harden until their split the next year.
The Cleveland Cavaliers player was seen getting intimate with Khloe's own sister Kylie Jenner's best friend, Jordyn Woods. It's the second time that Thompson's behavior landed him in hot water with his partner.
Woods, 21, addressed the situation in a "Red Table Talk" interview with Jada Pinkett-Smith. Despite that, Jenner dropped her as her BFF. Khloe, meanwhile, saw it as the last straw.
Woods said on the show that she didn't hook-up with Thompson. Nor did she give him a lap dance, make out with him, or go anywhere out of the public eye.
She admitted to kissing Thompson on the lips as she was heading out of a party at his home. She kept that fact from Khloe in the hopes of sparing her feelings.
Khloe reacted with a tweet accusing Woods of lying. She asserted that Woods should have called her privately to apologize instead of going public. She then definitively stated that Woods was "the reason [her] family broke up!"
Khloe chose to deal with Thompson in a less public manner. Ultimately, she clearly put some blame on him as well since the two are no longer together. Let's hope she does decide to give non-basketball stars a try.
Please fill in your e-mail so we can share with you our top stories!