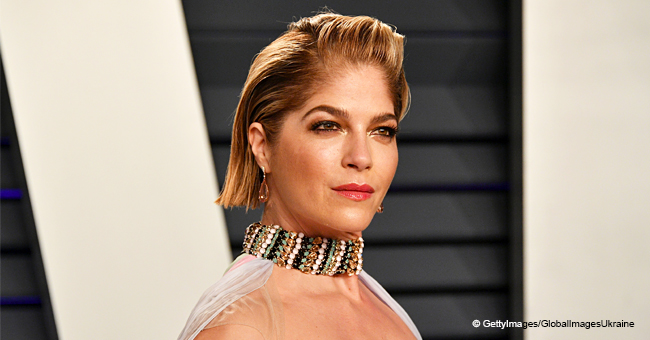 Selma Blair Shares a Makeup Tutorial for People with MS, and It's Both Hilarious and Touching
Keeping her chin up in the face of her illness, Selma Blair created a funny video showing what it's like to put on makeup when you have MS.
Her video post got over 800,000 views and more than 6,000 comments. Blair captioned it with,
"I couldn't make this get onto my IG story cause... I don't know. But here is my solution to applying makeup with a lack of fine motor skills. #laugh and feel free to reapply my makeup. #makeuptutorial #real"
The 46-year-old actress, who has been diagnosed with multiple sclerosis, spoke, laughed, and rubbed a fluffy makeup brush across her face in the lighthearted "tutorial" saying,
"People. Brush. Big. Bronzer. There. Done. Stop."
She explained,
"My fine motor skills aren't like, fine at this moment, so I just want to say I'm gonna probably give a makeup tutorial never. But if I do then you know I'm just really trying to have fun cause I notice I put my makeup on in the morning and all day people are rubbing my face -- friends -- and I say 'whatcha doin'?' And they're like, 'Just a little makeup.' And then my manager just said maybe I better not do this."
The star got kind remarks from her fans and friends for that post.
Kris Jenner praised her calling her a "rockstar" as she sent her emoji love and hearts.
Brooke Shields said,
"You are so beautiful you don't need makeup, but I agree with a big brush always. Love you. B."
Blair made her first public appearance after announcing her diagnosis at the Vanity Fair Oscars Party using a cane for support while wearing a gorgeous gown by Ralph & Russo Couture.
It was in October 2018 that Blair decided to come forward with her condition and share the challenges she had been facing on her own for some time now.
Nobody saw it coming, but the star received an outpouring of love and support in reaction to her revelation.
Please fill in your e-mail so we can share with you our top stories!