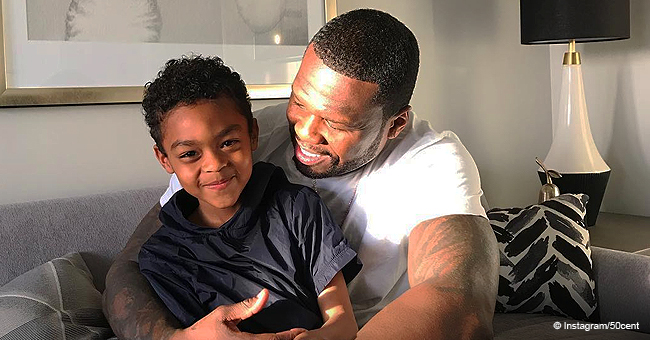 He's Already Better Than Me,' 50 Cent Shares Heartwarming Photos with 6-Year-Old Son Sire Jackson
50 Cent might be known to many as the "guy" who likes to troll other celebrities, but when it comes to 6-year-old Sire, the rapper shows that he indeed has what it takes to be a doting father. Sire Jackson sure knows how to bring out the best in his daddy.
Rapper and actor, Curtis James Jackson III, popularly known as 50 Cent is one of the most controversial artists in the music industry. Although he is never bothered by these disputes and even tries to make humor of such situations, one thing that's never been questionable in his life is his son, Sire.
Last September, Sire clocked six and the "Power" producer and ex-girlfriend, model Daphne Joy threw their son a massive birthday party. The party which was befitting for the occasion had all the things the toddler could have hoped for, and this was just one of the times 50 has spoilt the little cutie.
The father who is known to share cute and goofy images of his son on his Instagram page posted a series of pictures of the duo having a lovely moment together. The photos featured the rapper holding and pecking Sire at intervals as they both had smiles on their faces.
In the images, the little boy seemed to be amused by something and thus the big grin on his face, but 50 Cent on the other hand was definitely engrossed with the toddler wrapped between his arms. It is undoubtedly exciting and heartwarming to see the 43-year-old who rarely shares that loving side of himself in such a cute moment.
The father captioned the images,
"This guy is part two, his personality he's already better than me. I just got a few things to teach him. #lecheminduroi #bransoncognac"
Although 50 Cent and Daphne Joy seems to be in a "good" place co-parenting their child, that does not seem to be the case for another of the rapper's baby mama, Shaniqua Tompkins.
Tompkins and Fifty were both in a feud after the producer threatened that he was going to shut down a new reality show she was to feature in alongside Nas' ex.
Even though it is typical of Fifty to look for or be associated with trouble, when it comes to Sire, he is of the best behavior.
Please fill in your e-mail so we can share with you our top stories!