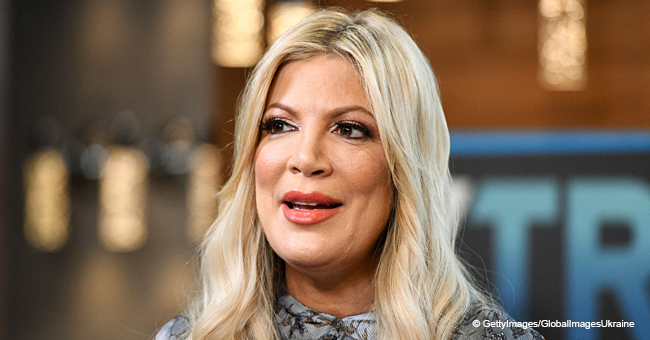 Tori Spelling Reveals Music-Themed Cake for Son's Birthday Amid Reported Financial Problems

Most parents will give anything for their child's happiness, no matter the constraint. 45-year old, Tori Spelling, who features on 'Dr 90210', is a mother of five, and she recently stopped at nothing to make her son, Beau, have a memorable 2-year-old birthday party.
Broke or not, her decision to buy him an artistic cake, from a top-notch restaurant in LA, stood firm. Both Spelling and her husband, Dean McDermott gave the most fabulous treat to their little boy.
The birthday party themed Beau 2.0 had a special cake, beautifully decorated with cassette tapes, and music box. The delightful mom held her baby boy's party at Giggles N Hugs. The party was all fun games for all in attendance, as adults had a drink section.
After the whole celebration, she shared her happiness on Instagram by putting up a post, which had a lengthy caption. It detailed every bit of the fun from Beau's party. According to her:
"We celebrated Beau's 2nd birthday party at his favorite place, @gigglesnhugs. Seriously the best and easiest place to host your kiddos birthday party in LA. Thanks, @gigglesnhugs, for throwing Beau the best birthday party". He's dance and music obsessed, so we went for old school rap". Our family fave @buildabear came and set up Beau Beau Bear, talented @mrhoodbrush did Graffiti art on hats and totes for all the kids! Thnx @sockprint for all the Beau 2.0 socks for indoor playground jam. And Beau loved the coolest cake ever @cakebashstudiobakery."
It's not the first time she'll be sharing posts of her and her family having fun. As the mom of five would go any length to please her kids.
In a recent post, she showed all her kids, Liam-12, Stella-10, Hattie-7, Finn-6, and Beau-2, munching on little bite muffins. She confessed that she was happy with what she was feeding them because it is a healthy snack.
It did not go down well with her fans. They called her out and criticized her choice of snacks for her kids. Her husband quickly posted a video in her defense. He said:
"Hey everybody, I am sick and tired of everybody taking a shot at my wife, Tori Spelling because shes a celebrity. They think they can say and do whatever they want. She's a great mom, and we are great parents, our kids eat healthily, so can you get over yourselves? Leave my wife alone!"
The ride or die couple shares a formidable bond. Apart from dealing with critics; they have stayed strong through their financial problems.
They had a case with City National Bank; they got sued by the bank for $205,000, which they failed to pay in 2016. They have recently been summoned by the court, as they have not yet cleared their debt with the bank.
A bench warrant was issued, with a $5,000 bail price. Amidst all the troubles, with a supportive husband, Tori still runs her family and career.
According to details obtained by Fox, there's going to be a Beverly Hills, 90210 reunion series for six episodes in summer. It will feature Jason Priestley, Ian Ziering, Austin Green, Jennie Garth, Gabrielle Carteris and Tori Spelling.
Please fill in your e-mail so we can share with you our top stories!