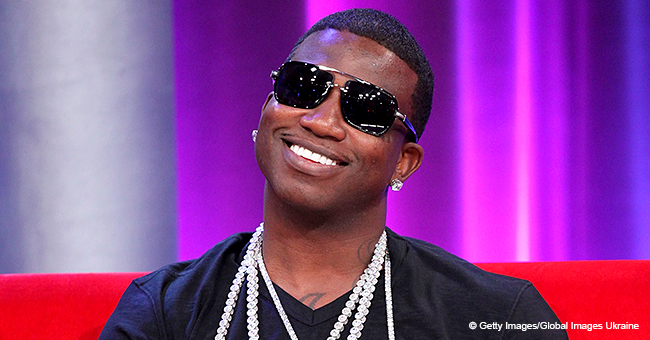 Gucci Mane Shows off Incredible 50-Pound Weight Loss, Gets Praised for His Toned Physique

Gucci Mane flaunts his incredible weight transformation as he encourages his fans to set him as an example for their body goals. A clip of his shirtless body is taken by his wife while he addresses his fans.
Gucci Mane has a message for his followers who want to be in shape like him. "Use me for inspiration."
THE MANE MAN
Mane impressively lost 100 pounds and just shared a clip of his transformation as he walked around his home shirtless and flexed his muscles.
"Just a lil inspiration from the Wop," he captioned the clip which takes his fans to his poolside.
Speaking as his wife Keyshia Ka'Oir held the camera, Mane said,
"For people who ain't in shape, people who ain't healthy, people need some inspiration. I was 290 pounds, now I'm a 190 pounds. I lost 100 pounds."
He continued,
"So check this out: You can do it if I can do it. Use me for inspiration, 'cause I'm seeing a lot of y'all and y'all look terrible."
At one point, Ka'Oir's hand enters the frame and touches his toned abs. "You're so fine," she says and her husband agrees. "I'm so fine I blow everybody mind."
Fans took to his comments section to praise him for his weight loss and show appreciation for his example.
"Looking great!!!! Yes, I'm inspired!!!! Congratulations on an incredible transformation!" one commented.
"Big up brother that's a huge achievement," another urged.
FIT FOR FASHION
Mane was in prison when he decided to start dropping the pounds. He lost 50 inside and now appears to have lost 50 more outside. The rapper was released in 2016 after he served three years for gun and drug charges. He was arrested in September 2013.
Mane told Vogue upon his release that his decision to lose weight stemmed from his frustration of not being able to wear the brands he liked.
"Before I was incarcerated, I had gotten so overweight that I couldn't fit into any of the clothes I wanted to wear. So with the time I was away, I decided I was going to lose weight so I could be able to wear all the brands that I really like."
Today, photos of him reveal a flair for fashion and an extravagant sense of style. Just take a look at some of his recent stylish pics on his Instagram.
A CASE OF CUSTODY
Mane's seemingly luxurious lifestyle is the reason why his ex-wife is currently suing him for more money. Sheena Evans, the mother of his 11-year-old son Keitheon is asking for an increase of her child support claiming she and her son are living on welfare while Mane is earning millions.
The rapper denied his income ever changed since 2011 when his $2,026 monthly obligation to his child was set. He requested for the dismissal of the case but the judge has yet to rule on it.
Please fill in your e-mail so we can share with you our top stories!