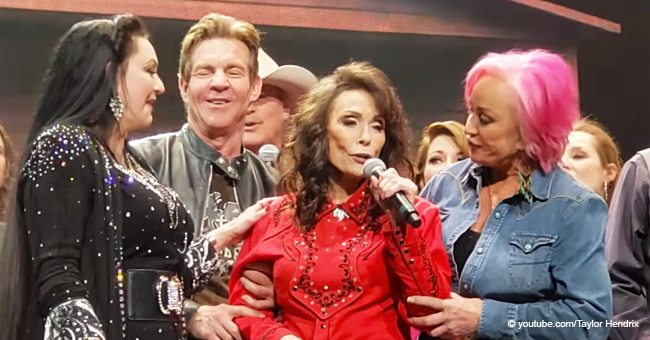 Loretta Lynn Sings at a Birthday Concert in Her First Public Performance since Suffering a Stroke
Loretta Lynn celebrated her 87th birthday through a concert last Monday at Bridgestone Arena. The famous country singer got on stage and sang her classic hit, "Coal Miner's Daughter," which is her first performance after her stroke in 2017.
The performance of Lynn came as a surprise, given her experience with stroke and a broken hip last year. However, the country singer was full of life and positivity during the event, making her way to the stage to join the other performers. Lynn stood front and center, while friends and family gathered around her.
Tanya Tucker and Crystal Gayle stood by Lynn as she began to sing with them. After a few lines, Lynn was back on track and took the lead, once again, shining like the star she is.
The concert lasted almost three hours and featured different performances by more than a dozen artists who paid tribute to the celebrants' songs.
Keith Urban made a special appearance as he popped out of a gigantic birthday cake, fulfilling a birthday wish of Lynn. He also performed the song "Blue Kentucky Girl." In his introduction he said:
"I played in a few cover bands growing up [in Australia], and we often ended up with a girl singer."
"And so even on the other side of the world I grew up playing quite a few of your songs over the years… This is a sone I wanted to do, despite the fact that it's sung by a girl, because I've always loved this song."
On the other hand, Tanya Tucker took out flowers amidst her performance of "While I'm Living" with Brandi Carlile and Margo Price. Price, who is eight months pregnant, revealed that her daughter's middle name will be Lynn, as she sang the song "One's On the Way". She said:
"So, I'm having a little girl, and you can bet that's gonna be her middle name."
Darius Rucker performed The Pill, which was a controversial song in the '70s due to it being about the celebration of birth control. He explained that he decided to sing this song, simply because no one else chose it. He said:
"I was looking through the songs, and no one was doing this song, so I said, 'I guess we gotta take 'The Pill'.'"
Before singing "Don't Come Home A Drinking (With Lovin' On Your Mind)," Miranda Lambert took the opportunity to thank Lynn for "all the advice when husbands p--s you off."
Among the other artists who performed were Jack White, Trisha Yearwood, Garth Brooks, Little Big Town, George Strait, Martina McBride, and many more. Additionally, Carrie Underwood, Dolly Parton, and Luke Bryan sent video greetings as they could not be physically present.
Lynn's career took off in 1960 when she had her first single, I'm a Honky Tonk Girl. She quickly became part of Nashville's evolving music scene and made a debut on Opry.
It was only in 1967 when Lynn had her first number 1 hit, "Don't Come Home A-Drinkin' (With Lovin' on Your Mind), and later received a certified gold album. She was the first woman to receive this.
Her career just kept going uphill from there, and up until now, her name remains known in the music industry. She is a country music icon who earned herself the title, Queen of Country.
Please fill in your e-mail so we can share with you our top stories!