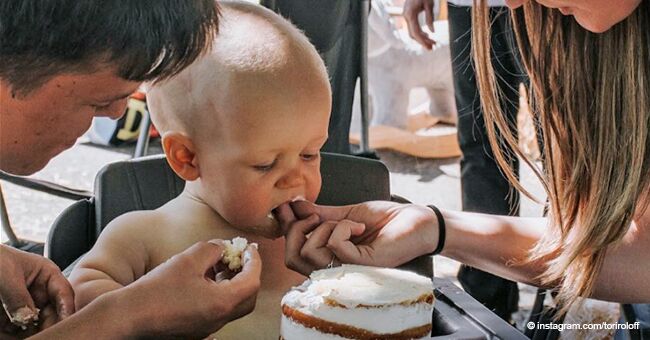 'Little People, Big World': Jackson's Birthday Causes a Quarrel between Tori and Zach Roloff
Preparing for Jackson Roloff's first birthday caused tension to parents Tori and Zach Roloff's marriage amid the season premiere of "Little People, Big World."
The latest episode of the hit reality series meant to commence with a sweet celebration for the baby's life. However, it ended up with Tori and Zach bickering.
As the party came to an end, Tori said that the family is only trying to enjoy every party they can.
The arguing actually began before the party as Zach and Tori went to purchase what they needed. The couple couldn't help contradicting what they should spend.
Tori complained to the cameras, saying: "I feel like we bicker when we enter each other's realm."
"We bicker when I try to tell Zachary something about the house, money, building something. But then Zachary every time he tries to talk about food, Jackson or clothes... anything that's in my realm we argue," she added.
MONEY ISSUES
Their tension originated from Zach's worries about getting too much food and adornments for the gathering as the family deals with a difficult monetary circumstance.
Earlier in the episode, the couple told Amy Roloff that they were holding their breath for a speedy deal on their old home so they could quit paying two mortgages.
A SUCCESSFUL PARTY
In spite of the pressure, Jackson's birthday party went smoothly. Jeremy, Audrey, Ember Roloff, and other family members that don't show up on the series as much anymore were spotted at the event.
The family matriarch said that she's delighted they were able to come to Jackson's birthday celebration. As the party came to an end, Tori said that the family is only trying to enjoy every party they can.
DISAPPOINTED FANS
Meanwhile, a lot of fans felt that Zach has changed in the most recent year. A few fans said they found it annoying that he appears to follow the mistakes Matt Roloff made.
On cash matters, fans saw a history of quarreling between Matt and Amy, who ended their relationship in March 2014. After 27 years of marriage, their divorce was finalized in 2016.
Matt is currently in a relationship with Caryn Chandler, manager of Roloff Farm, while Amy is giving love another chance with her new boyfriend, Chris Marek.
Please fill in your e-mail so we can share with you our top stories!