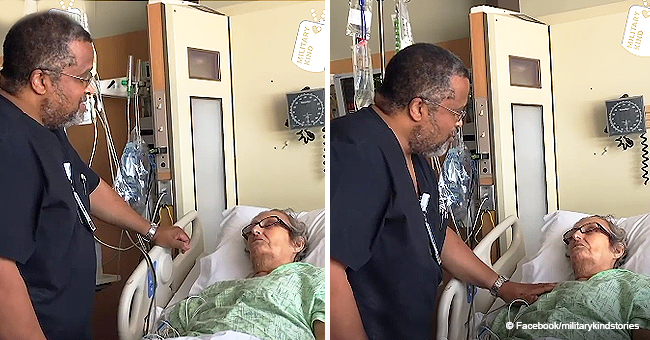 Air Force Veteran Nurse Holds Back Tears as He Sings Tender Song to Terminal Patient in Viral Video
There are few people with a heart of gold and Stephen is one of them. The air force veteran nurse showed compassion to a sick old woman in this heartwarming video.
Working as a nurse, Stephen understood what it meant to be empathetic and would usually sing one of his favorite songs, "Be a Lion" from the movie "The Wiz" to his patients.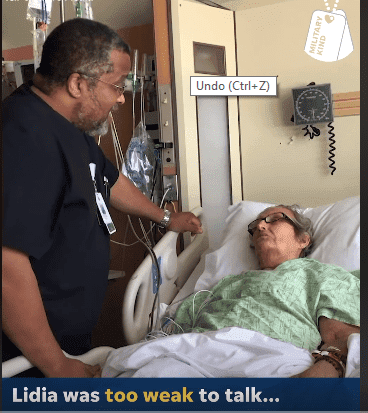 Air Force Veteran Nurse courageously sings "Be a Lion" to a woman sick with terminal cancer. | Photo: Facebook/ Militarykind Stories
One exceptional patient of Stephen is Lidia who is suffering from terminal cancer. The old woman who is very sick and now finds it hard to speak seems to relax when Stephen who is one of her favorite nurses in the facility comes over and sing to her.
In this lovely video shared on Facebook, the air force veteran could be seen singing the lyrics,
"You're standing strong and tall. You're the bravest of them all. If on courage, you must call, then just keep on tryin', and tryin', and trying..."
Lidia diagnosed with terminal cancer, is lucky to have an immediate family to care for her and also to find a bonus family in Stephen.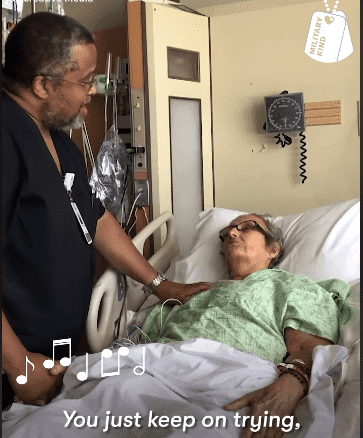 Air Force Veteran Nurse courageously sings "Be a Lion" to a woman sick with terminal cancer. | Photo: Facebook/ Militarykind Stories
According to sources, the former United States air force official featured some of his parenting skills in his current vocation. While he used to sing the lyrics of 'Be A Lion' from the children's movie, The Wiz: The Super soul Wonderful Wizard of Oz", to his son, to teach him about bravery, he adopted the same method of instilling courage to Lidia, who happens to be one of his unique patient.
As Lidia's condition deteriorated, she started to speak less often. Her family members realized that Stephen will always hold her hand, sing to her to soothe, appease, and ease her of any tension. Fortunately, he always seems to work magic! And thus, turning out to be one of her favorite nurses.
In the clip uploaded, Stephen decided to share the emotional moment with the public. The duo is seen holding hands, while he sings.
In the course of the song, he kept looking at Lidia as he tried not to cry, and she responds to his words by nodding her head. After the rendition of the song, the veteran looked at her and whispered passionately,
"So I want you to keep on trying, don't you ever stop fighting you hear me."
Stephen's strength and love for Lidia supported her until the very end when she died. What lifted her spirit during the times when nobody could reach her were the encouraging words of Stephen, whose final words to her were, "I'll miss you."
People have since commended the Air Force veteran's actions and compassion on social media. He is a hero and very well deserved one. The world does need more people like Stephen!
Please fill in your e-mail so we can share with you our top stories!