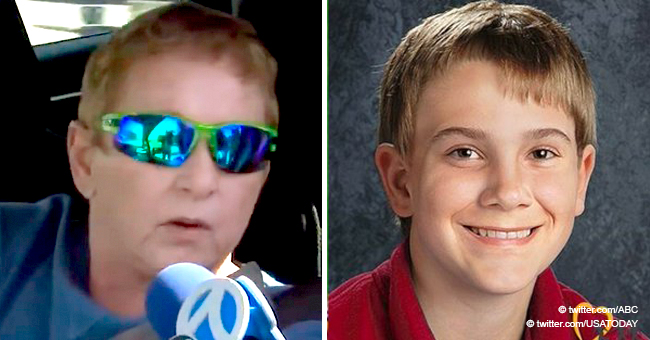 Family, Neighbors React after Timmothy Pitzen Allegedly Found 7 Years after His Disappearance
A 14-year-old boy named Timmothy Pitzen was found recently after his disappearance seven years ago. He apparently escaped from two big men who held him captive and ran to a neighborhood for help.
Timmothy was only six years old when he went missing. It was the year 2011 when Amy Fry-Pitzen, his mother, fetched him from school in Illinois to spend three days in Wisconsin Dells.
Shortly after, Amy took her own life in a hotel and was found with a note that said her son was safe but would never be seen again.Now, a 14-year-old boy has come forward claiming he is Timmothy.
According to the boy's narrative, reported by the Sharonville Police Department, he was detained by two white men for the past years. He described the men to look like bodybuilders; one with black curly hair and a spider web tattoo on his neck, and the other to be short with a snake tattoo on his arm.
He fled from Red Roof Inn last Wednesday, where he was held captive, and sought help from a neighborhood in Kentucky. Fray Knight, a neighbor who saw the boy, described him.
"He just was real antsy, he wouldn't stand still," he said.
"All of this was red and this was red, like he had been punched," he continued.
Knight quickly believed the boy, given his current state and how we frantic he looked.
"He told them he didn't know anybody here. He's never been here before and I don't find that hard to believe because of the look on his face and the way he was acting. He didn't know anyone," he added.
In an interview with NBC Chicago, Timmothy's grandmother and aunt shared their high hopes that the lost boy is still alive and will soon be with her again.
"We've always felt strongly that this day would come," said his aunt.
"It's hard to realize it's happening when it does come. We're still waiting if it is actually TImmothy," she added.
The DNA of the boy who claims to be Timmothy is currently being tested for verification, but Timmothy's aunt hopes the results turn out positive.
The family has dealt with many leads the past years, but none as big as this. Aurora police officer Bill Rowley shared with the Associated Press:
"We've probably had thousands of tips of him popping up in different areas. We have no idea what we're driving down there for. It could be Pitzen. It could be a hoax."
Alana Anderson, Timmothy's grandmother told WISN-TV:
"We just know a 14-year-old boy was found and went to the police."
She continued:
"We don't want to get our hopes up and our family's hopes up until we know something. We just don't want to get our hopes up. We've had false reports and false hopes before."
The disappearance of Timmothy is just one of the many cases of lost children who were later found. One of the similar cases is of a little girl who was found living with a tribe after her disappearance.
Layla Leysha was only 7-years-old when she went missing. Her family filed reports then, asking for assistance to find their child, but only late last year was she seen living among the Aboriginal community, 200 kilometers away from her home.
Please fill in your e-mail so we can share with you our top stories!