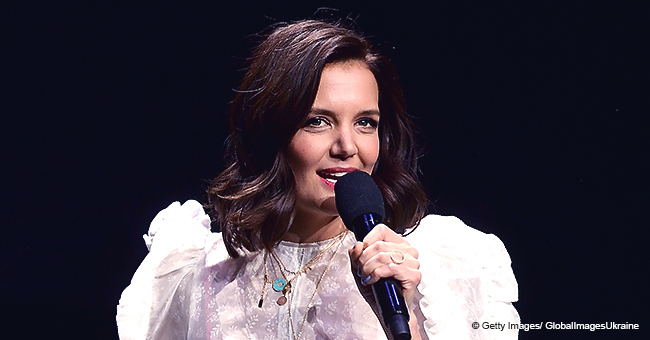 Katie Holmes Turns Heads in a See-through Top and Hot Pink Bra during Her Latest Appearance
Katie Holmes made a bold statement as she matched her bra with her lipstick while promoting her latest flick.
The 40-year-old appeared at CinemaCon in Caesar's Palace, Las Vegas on Tuesday and switched up her look for the occasion.
She went from laid-back and conservative to a more daring ensemble with a bit of teasing. A white blouse with puffy sleeves was the main part of her outfit.
The silky, semi-sheer blouse revealed a pink bra underneath. The actress matched it with a midi white skirt patterned with black and red flowers. Both pieces were designed by Ulla Johnson, who seems to be a favorite of hers based on the last few Instagram posts.
Holmes stuck to a playful hairstyle, letting her brown hair fall to her shoulders with one small swoop at the bottom. She kept her jewelry and makeup simple.
Holmes wore a couple of long necklaces and had simple eye makeup, but her lips were part of the tease. The shade of pink perfectly matched the sneak peek of the bra she was showing off.
For her feet, Holmes switched things up with a pair of blue lace-up sandals. She had a blue pedicure and manicure done to go with the contrasting look.
Holmes posed on the red carpet as she promoted her upcoming horror film, "Brahms: The Boy II," which will be released in theaters on July 26. CinemaCon is set to run from April 1 to April 4.
The mother of one spoke a bit about the new movie with Entertainment Weekly. She admitted that it "was pretty terrifying to make when we were working with the doll, it was a lot."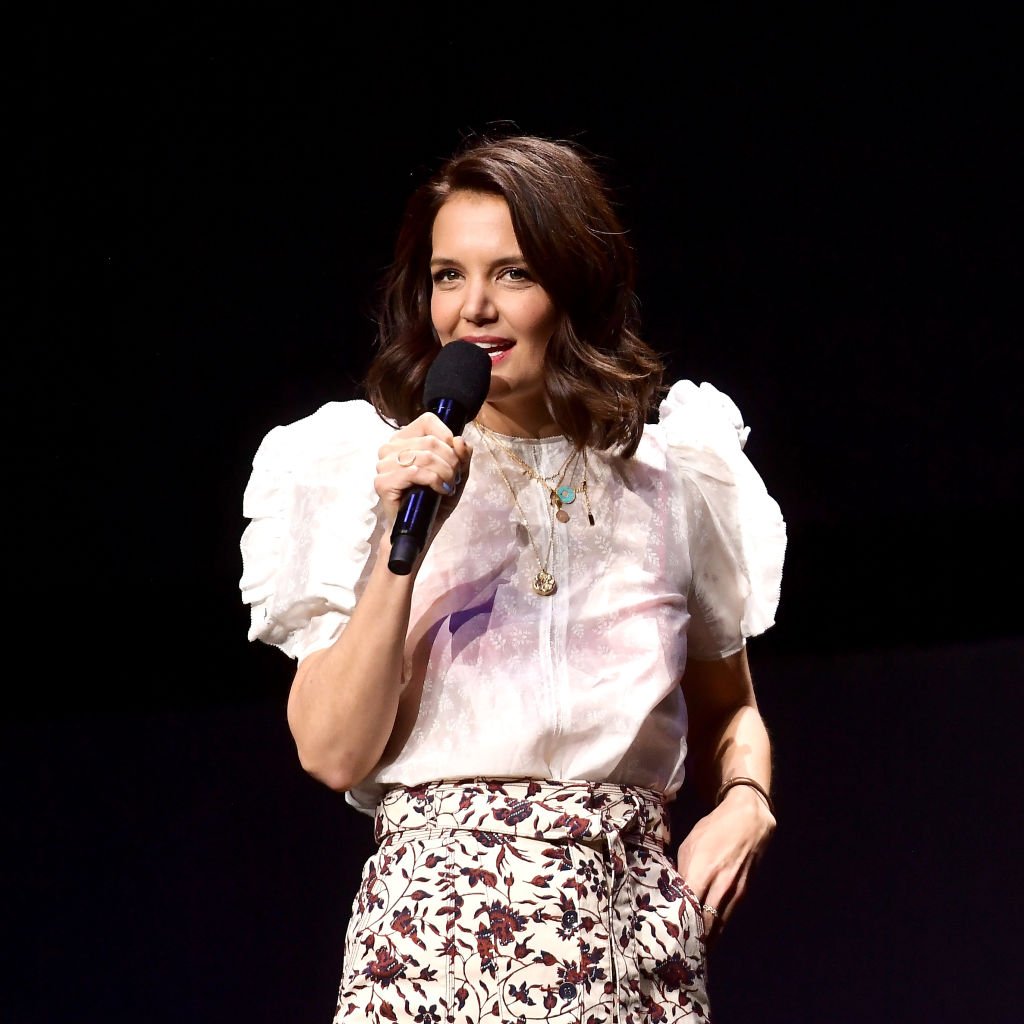 Katie Holmes speaks onstage at CinemaCon 2019 | Photo: Getty Images
Holmes, who celebrated her birthday back in December 2018, wore a more comfortable piece for her big night. She and her mother Kathleen Stothers-Holmes and her boyfriend Jamie Foxx stepped out for the occasion.
The trio had reservations at Serendipity 3, a New York City restaurant. Holmes wore a multi-colored cardigan over a gray top and a pair of mom jeans. Foxx, 51, adorned a long brown coat with a gray scarf and wore blue jeans.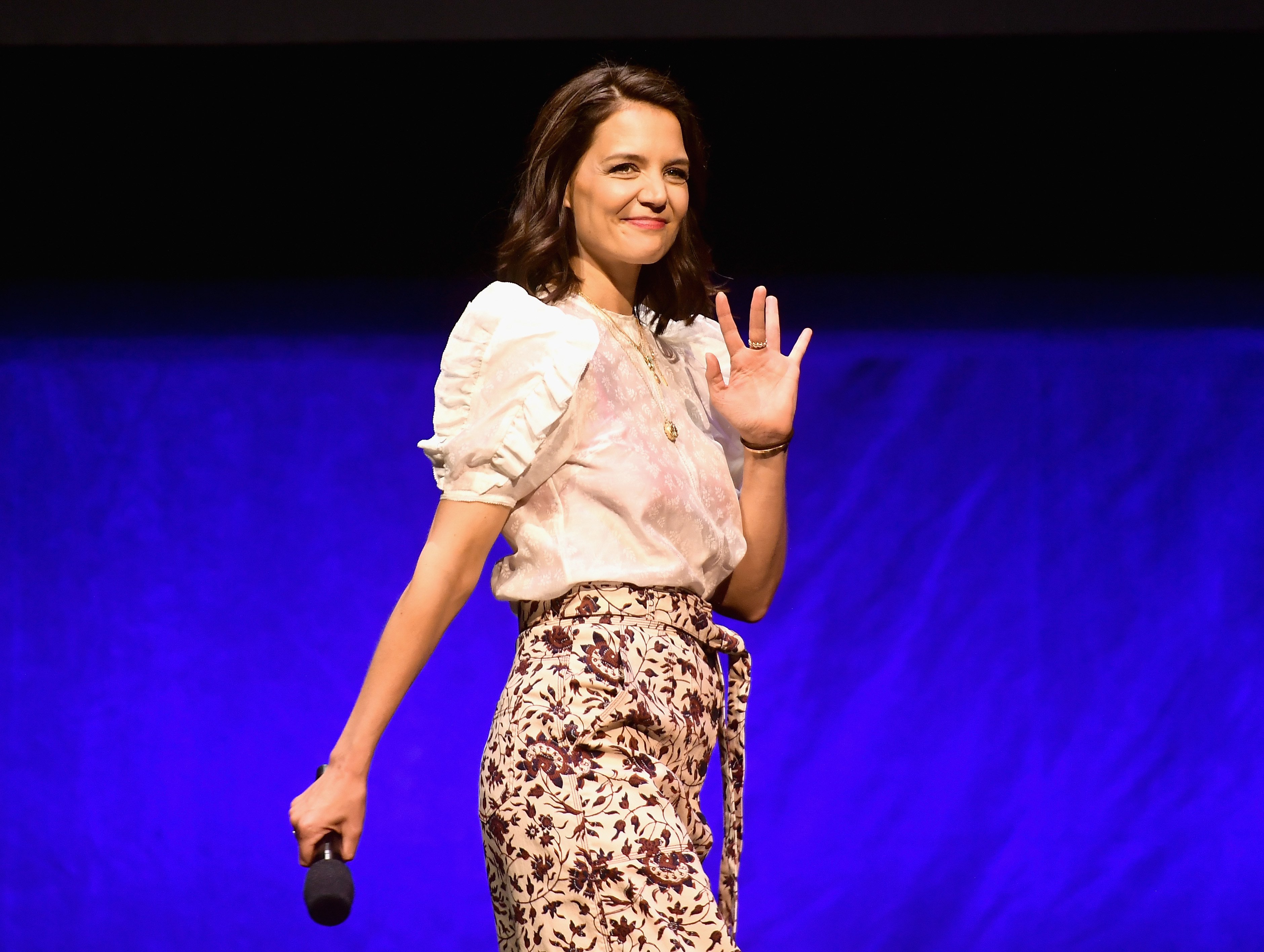 Katie Holmes speaks onstage at CinemaCon 2019 | Photo: Getty Images
The very private couple are still tight-lipped about their relationship which came to light in 2013. Currently, rumors about the pair's split continue to swirl even as they took a stroll in Central Park.
The couple was seen walking side by side last Tuesday, dressed appropriately for the cold weather in New York City. Holmes had on a denim coat with a knit hat that covered her ears and tied underneath her neck. According to Pop Sugar news outlet, "What breakup?"
Meanwhile, Foxx wore a long black coat that rose to his neck. He paired it with a black beanie. Both of them wore a pair of sunglasses for the rare outing.
Afterward, they went to the Museum of Metropolitan Art. Holmes' daughter Suri, whom she shares with her first husband, Tom Cruise, was not with them.
Please fill in your e-mail so we can share with you our top stories!