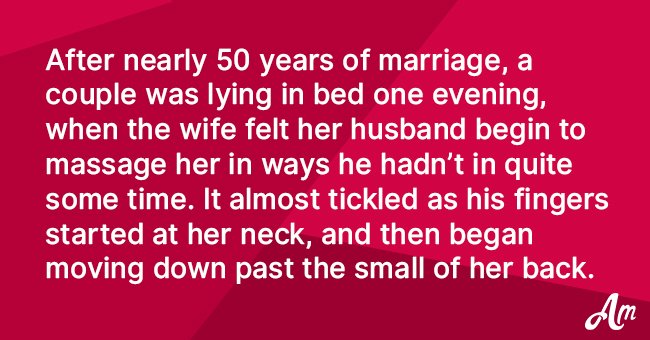 After 50 Years of Marriage, a Couple Was Lying in Bed One Night
A wife is surprised by her husband's ardor after 50 years of marriage.
After 50 years of marriage, one can expect the flames of passion to burn low, but one elderly lady was pleasantly surprised when her husband unexpectedly treated her to a sensual massage.
KEEPING THAT SEXY LOVE ALIVE
The lady was lying in bed when her husband began to touch her the way he used to when they were young. His fingers gently touched her neck, and then slid down past the small of her back.
He then caressed her shoulders and neck, and slowly worked his hand down, stopping just over her stomach.
The sensual massage proceeded, as he slowly ran his hand over her left inner arm, working down her side, passing gently over her buttocks and down her leg to her calf.
He slid his hand up her thigh, teasingly stopping just at the uppermost portion of her leg. He continued in the same manner on her right side, then suddenly stopped, rolled over and lay still.
The lady, aroused by his caresses asked in her sultriest bedroom voice: "Honey that was wonderful. Why did you stop?"
To which he replied: "Baby, I found the remote…"
ONE FINAL REQUEST FROM A DEATH BED
An old man was on his deathbed. He was surrounded by his children, grandchildren, and his older great-grandkids.
The doctors had revealed that the man, who was in a terminal coma, had less than a day left before his final breath.
To the family's surprise, the grandfather suddenly opened his eyes and with his croaking voice, said: "I must be dreaming of heaven! I smell your grandmother's strudel!"
His favorite grandchild replied, "No, grandfather, you are not dreaming. Grandmother is baking strudel now."
The grandfather gasped out: "I know I will never have another taste of her delicious strudel after this one. Could you please go down and get me a piece?"
The grandchild rushed to the kitchen to grant the grandfather's request, but came back empty-handed.
"Did you bring me one last piece of your grandmother's delicious strudel?" asked the grandfather.
The grandchild replied, "I'm very sorry, grandfather, but she says it's for the funeral."
Please fill in your e-mail so we can share with you our top stories!