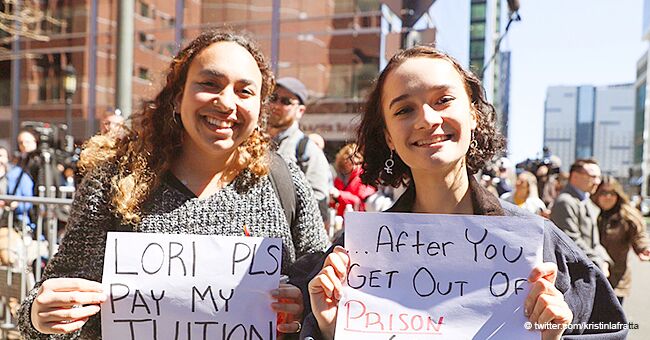 Lori Loughlin Waves at Crowd outside Court as Fans Yell: 'Lori, Pay for My Tuition!'
Prior to Lori Loughlin facing the courtroom, she had to face fans and bystanders who yelled for her to pay their tuition. She looked radiant as she walked past the crowd and inside the court to face her charges.
Smiles, waves, and nothing more. That's how Lori Loughlin greeted the crowd that waited for her outside the federal courthouse last Wednesday.
The "Fuller House" actress came to the John Joseph Moakley United States Courthouse in Boston, at around 2:30 pm, to face her charges for alleged involvement in a university bribery scheme.
She arrived in a black van, wearing a tan suit with a gray top underneath, and shook hands with people who anticipated her coming. Some were fans, while others were merely bystanders who shouted,
"Lori, pay for my tuition!"
Among those who were in the courthouse are two college fans with cutouts of Loughlin's face. Liana Ferrara from Bentley University told USA Today:
"We're huge fans of Lori, and I loved her because of 'Full House,' and obviously we're upset because we're college students, and we think it's messed up, but we just came for fun, just to see her in person and see what she had to say."
Ferrara also mentioned that she and her friend used to subscribe to Loughlin's daughter, Olivia Jade's, YouTube but stopped and unfollowed her on all social media accounts as soon as the news broke.
"I mean, we don't agree with what she did," Ferrara added.
"It's really bad. I think rich people think they have this advantage over other people and she just did that."
Loughlin and her husband, Mossimo Giannulli, are among 40 or more people involved in what is known as the "largest college admissions scam ever prosecuted by the Department of Justice."
They allegedly paid a hefty $500,000 bribe to get their two daughters, Olivia Jade and Isabella, a slot at the University of California as crew team athletes, which they girls never played.
"Lori is mortified and gets the seriousness of [scam], but her concern was for her daughter and [is] now, more so than ever. She is really less worried for [herself] and her husband, and [is] really worried for her daughters' future."
The arrest of Loughlin's husband happened last March 12, while she was on the way home from Vancouver, but was released after posting a $1 million bond as bail. It was not until the next day that the FBI had custody of Loughlin, who was also released on a $1 million bond.
On March 14, Loughlin and Olivia started receiving worse news. Hallmark Channel announced that they have let go of the actress. In a statement they said:
"We are saddened by the recent news surrounding the college admissions allegations. We are no longer working with Lori Loughlin and have stopped development of all products that air on the Crown Media Family Network channels involving Lori Loughlin, including Garage Sale Mysteries, an independent third-party production."
On the other hand, Sephora released a statement that said:
"After careful review of decent developments, we have made the decision to end the Sephora Collection partnership with Olivia Jade, effective immediately."
Things continued to go downhill for their family since. Apart from losing income-generating activities, they also got a lot of backlash on social media and from people they knew. However, they must face the consequences of their actions, like the rest of those involved in the scam do.
Please fill in your e-mail so we can share with you our top stories!