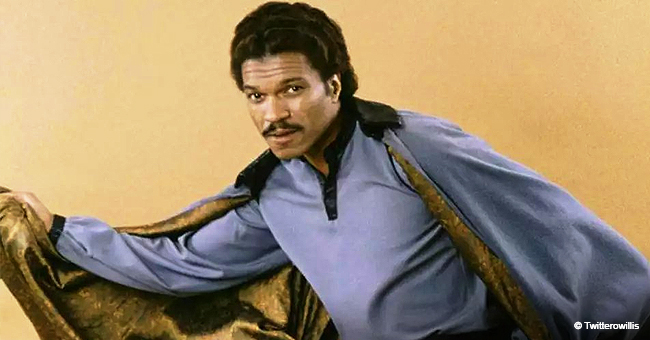 Remember Lando Calrissian in 'Star Wars'? He Once Struggled with Terrible Depression
Billy Dee Williams opened up about his long and distinguished career and his first and greatest love - art.
The man "Star Wars" fans know as the dashing space pirate Lando Calrissian never meant to become an actor.
For Billy Dee Williams, acting was a way to make money to buy the expensive art supplies he needed to pursue his dream of becoming an artist.
BILLY DEE WILLIAMS' BREAKTHROUGH
Although he had been working on stage and screen since 1959, his breakthrough role was playing Billie Holliday's husband in the 1972 film, "Lady Sings the Blues."
William's riveting performance was acclaimed by critics and over the next few years, his career flourished, even as his first marriage foundered and threw him into a deep depression.
Williams starred in Tim Burton's "Batman" as the tormented and ambiguous supervillain Harvey Dent
BECOMING A STAR WITH "STAR WARS"
In 1980, Williams landed the role that would make him a household name throughout the world. He starred as the former space pirate Lando Calrissian in the blockbuster sequel to "Star Wars," " The Empire Strikes Back."
ANOTHER LEGENDARY ROLE
In 1989. Williams starred in Tim Burton's "Batman" as the tormented and ambiguous supervillain Harvey Dent. His performance was lauded by the critics, even though he worked opposite such massive talents as Michael Keaton and Jack Nicholson.
81 AND GOING STRONG
Although Williams is now 81, he is as dedicated to his dreams as ever. The actor is also a successful and talented painter who has exhibited his work to critical acclaim.
He is happily married to his wife of 46 years, Teruko Nakagami, and the two share a daughter, Hanako Williams.
Fans of Billy Dee Williams can look forward to seeing him as Lando Calrissian once again in the forthcoming "Star Wars: Episode IX."
PASSING ON THE TORCH
In 2108, actor Donald Glover reprised Billy Dee Williams' role as Lando Calrissian in "Solo: A Star Wars Story."
In order to prepare for his part in the movie, Glover sat down with Williams to discuss the role. Williams admitted that passing on the torch wasn't easy for him:
"I guess what it is that I identify so much with Lando. I mean, Lando has been very much a part of my life for over 30 years ... I just never thought of anybody else being Lando. I just see myself as Lando."
Glover played a young Lando in the movie which chronicles the early life of Han Solo and the beginning of his legendary friendship with the space pirate and the Wookie, Chewbacca.
Please fill in your e-mail so we can share with you our top stories!