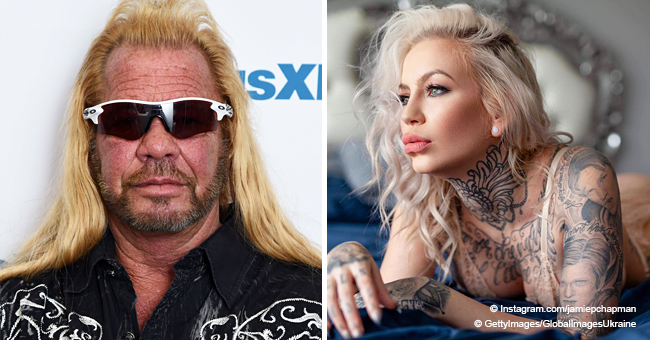 'Dog the Bounty Hunter's' Daughter-In-Law Flashes Her Tattoos in Barely-There Underwear

Jamie Chapman goes all out in her seductive barely-there lingerie post. The series of photos formed a collage of herself on her Instagram page.
All out and practically nude photos are nothing new on the Instagram feed of Jamie Chapman, daughter-in-law of "Dog the Bounty Hunter" and "Dog's Most Wanted" stars, Dog and Beth Chapman.
In a series of posts, Jamie shared photos of her different body parts to form a collage of herself, on her Instagram account. She flaunted her slim body covered in tattoos while posing seductively, sitting down with her head back and her eyes closed.
Chapman revealed in the comment section that her lingerie came from Fashion Nova, a popular Instagram brand. Their "Feel Close To You" lace teddy lingerie is designed to have a plunging neckline and just enough lace to cover that needs to be covered.
Prior to her latest series of posts, Chapman already had a photo wearing the lace teddy, where she encouraged her followers to "be comfortable in your own skin."
Chapman regularly shares shots of herself wearing minimal clothing and flaunting her incredible physique. She usually mesmerizes her followers with how stunning she can be.
She is also not shy to post about her husband, Leland Chapman, and their romantic relationship. They recently drove to Kentucky with her in-laws to meet and greet fans at the Lexington Comic and Toy Expo. She seems to fit in well with the rest of the Chapmans and like her mother-in-law who battles cancer, spreads positivity.
Their family seems to be doing well despite going through a rough patch amidst Beth's health issues. In an interview with Hollywood Life, Dog admitted that he has grown to be emotional in battling the thought of losing his one and only.
In fact, Beth has already created a name for the "Bounty Hunter" actor. He said:
"Beth jokes that I'm the Cry Baby Bounty Hunter. I swear. She joked that the name of the show should be the Bawl Baby Bounty Hunter. 'Here he goes crying again,' Beth teased."
Dog, although now out to capture fugitives and criminals, was once involved in crime as well. After joining the Devil's Disciples biker gang, he would find himself behind bars every once so often.
In 1976, Dog was convicted of first-degree murder, when his friend took the life of a suspected drug dealer and pimp. However, Dog was able to turn his life around while spending time as a barber and counselor for other inmates.
Please fill in your e-mail so we can share with you our top stories!