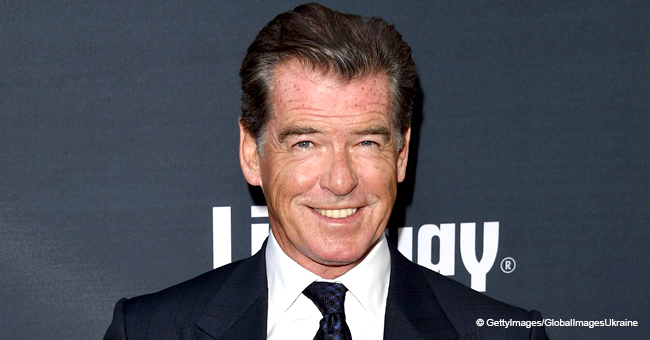 Pierce Brosnan Shared a Rare Photo of His Mother with Congratulations for Her Birthday
Pierce Brosnan shared the sweetest picture of his mother Mary Smith in a birthday Instagram post on Thursday.
Just one candle was lit on a brown cake covered in white frosting that sat on a table in the photo. Several strawberries topped off the single-tiered treat that was given to Mary Smith, Brosnan's mother.
The older woman turned 85 on April 4, 2019, but she looks quite good for her age. As a former nurse, it makes sense. The picture is found below.
Smith sat down wearing a pink sweater and a green scarf around her neck. Her short gray bob covered a toothy smile as she looked into the camera.
In the caption, Brosnan wrote:
"Happy Birthday Mum. [Prayer Hands emoticon] for this life."
The actor's mother did not raise him throughout all of his childhood, but she was there for him when she could be. On the other hand, his father left when Brosnan was only a baby.
Mary and Brosnan's relationship simmered early on when she went to England to practice nursing. Brosnan's grandparents, who lived in southern Ireland, cared for the young boy.
When they died, Brosnan was taken in by a woman and raised alongside her children. He saw his mother twice a year in the time they were apart. At just 16, he went into creative arts and soon began his career.
Brosnan got married and had three children with wife Cassandra Harris. Yet while the actor was working on his most popular role as James Bond, Harris passed away from ovarian cancer.
One of his sons, Sean, took the news especially hard at just eight years old. By the time he reached Middle school, Sean was doing drugs that resulted in him being an outcast.
At 16, he was involved in a car accident and got addicted to painkillers. He also started doing cocaine. Two suicide attempts followed after that.
Sean got into acting as his father was, but relapsed with drugs and alcohol when his half-sister passed away at 41. Things only changed drastically for him when he met and married the love of his life, Sanja Banic.
When Sean had his first child, Marley, in 2015, things got even better. Sean is now pursuing his true passion in the mental health field. He says he wants to be a clinician and psychologist.
Love is also a major part of his father's life. After losing his first wife, Brosnan remarried journalist Keely Shaye Smith. The pair have been together for 25 years.
Last year, the 66-year-old actor celebrated their anniversary by posting a picture of him and Smith cutting their wedding cake. The two, who share sons Dylan and Paris together, have had a very longstanding marriage that seems to be as strong as ever.
They originally met at a beach party in Mexico in 1994. They got married in Ireland seven years later. Despite the loss of his daughter and first wife, it's great to see the actor have such a strong support system and people to share his love with.
Please fill in your e-mail so we can share with you our top stories!