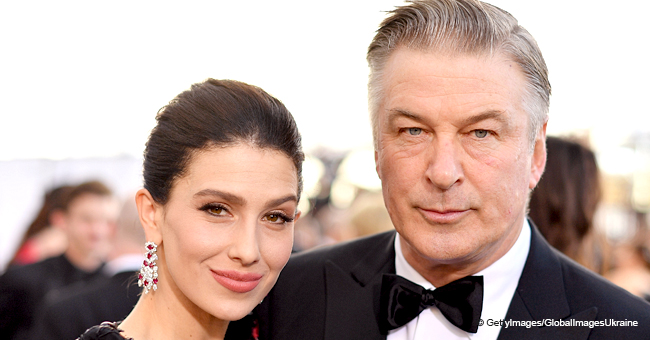 Alec Baldwin's Wife Hits Back at Troll Who Called Her 'Annoying' for a Possible Miscarriage Post

Hilaria Baldwin swiftly dealt with a troll after she posted an update on her pregnancy to create awareness around the topic of miscarriage.
On Thursday, the former yoga instructor posted an image of herself wearing only underwear with a hand over her tummy and a lengthy caption about her pregnancy because she thinks "it's important to show the truth."
"I always promised myself that if I were to get pregnant again, I would share the news with you guys pretty early, even if that means suffering a public loss," Hilaria wrote.
Hilaria and Alec Baldwin got married in 2012, and have since brought 4 beautiful children into the world, but fear this pregnancy won't result in a fifth. The embryo shows little growth and the heartbeat is not strong, giving a slim chance at being a viable pregnancy.
"I have no shame or embarrassment with this experience. I want to be a part of the effort to normalize miscarriage and remove the stigma from it," Hilaria continued.
Going through the first trimester of pregnancy has been hard on Hilaria who constantly feels nauseous and exhausted and feels grateful to have a great support system as she added:
"I am so blessed with my amazing doctor, my dear friends, and my loving family...My husband and my four very healthy babies help me keep it together and have the perspective of how truly beautiful life is, even when it occasionally seems ugly."
The mother of four doesn't "want to have to pretend anymore" and asked that people "be kind" when commenting, but one Instagram user couldn't help but dish out negativity.
"Nothing is private anymore…good god you're annoying…" the Instagram user replied to Hilaria's post. Unmoved by the slap of ignorance, she wrote back, "Why are you on my page?"
Seconds later she followed up with a longer reply. "I would suggest that you go through and read even just a handful of comments from people who have experienced the same thing. And maybe your heart and compassion will grow," Hilaria added.
On her Instagram Story Hilaria thanked everyone for their messages of support and added that "this is why I wanted to share."
She later updated that she could use a break from the paparazzi and said, "I would like some physical space from being chased with cameras right now."
However, she promised to keep posting pictures on her Instagram account. About a year ago, Hilaria posted images of all four her pregnancies as many "have asked for a belly comparison."
In each of the photos she posed in her underwear in front of a full-sized mirror, so the baby bumps were clearly visible.
It resulted not only in a beautiful trip down memory lane but reminded of how every experience is different. Not just with pregnancies, but with everything that happens to us in life.
Please fill in your e-mail so we can share with you our top stories!