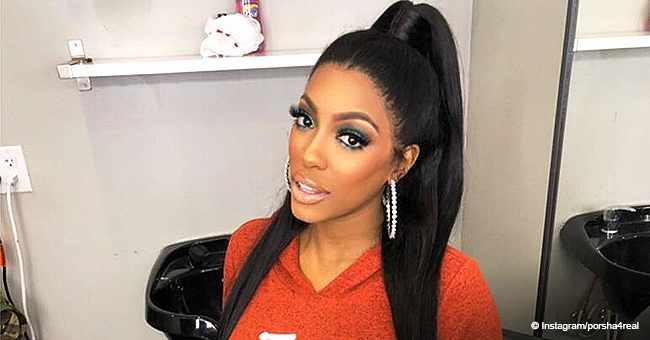 Porsha Williams Reveals Meaning of Baby Pilar's Name and Explains How to Pronounce It
Porsha Williams is keeping fans in the loop by telling them all about the origin and the meaning of her baby daughter's name and how to pronounce it correctly.
Fans of "The Real Housewives of Atlanta" who have been following Porsha Williams' pregnancy closely were delighted when she gave birth to her daughter P.J. on March 22, 2019.
Porsha who always referred to the baby as P.J. has now revealed what the acronym stands for, Pilar Jhena.
PORSHA WILLIAMS' FIRST CHILD
Pilar Jhena is Porsha and fiancé Dennis McKinley's first child, and the couple has been enjoying their first days of parenthood.
Porsha shared an adorable photo of her precious bundle in the arms of her bare-chested fiancé and captioned it:
"The sweetest picture I've ever seen! ??❤️ My babies!"
Even though she is only a week old, Pilar Jhena is already a social media star
P.J.'S EXOTIC NAME
Porsha explained to fans that Pilar Jhena's first name is of Spanish origin, and is a reference to the Virgin Mary as a pillar of the Church's faith:
"According to legend, when Saint James the Greater was in Saragossa in Spain, the Virgin Mary appeared on a pillar."
HOW IS PILAR JHENA'S NAME PRONOUNCED?
For fans who wonder how the baby's name is pronounced, Porsha posted a video, captioned:
"This is how my mommy pronounces my name ❤️ Music to my tiny ears?? & Forever daddy's PJ"
PILAR JHENA - SOCIAL MEDIA STAR
Even though she is only a week old, Pilar Jhena is already a social media star, and mom Porsha has created an Instagram account just for her.
Just days after her birth P.J. can boast over 65,000 followers, and may soon be outshining her mom on the set of "The Real Housewives of Atlanta."
Fans will have a treat with Bravo's special "Porsha's Having a Baby" which will air on April 28 and will share every detail of Pilar Jhena's birth.
P.J. IS PORSHA WILLIAMS' MINI-ME
Porsha Williams and Dennis McKinley have posted several photos of baby P.J., but none of them show the tiny girl's face.
The couple has carefully chosen the snaps they've shared with the world. Fans have seen the back of Pilar Jhena's head, her fingers, and her toes, but not her face.
An insider revealed to Hollywood Life that P.J. is her mom's miniature twin:
"Baby Pilar looks just like Porsha. She's a clone of her mom and of course, Porsha loves that. The baby is beautiful and is such a good baby."
Porsha Williams' fans eagerly await their first glimpse of little Pilar Jhena's face.
Please fill in your e-mail so we can share with you our top stories!