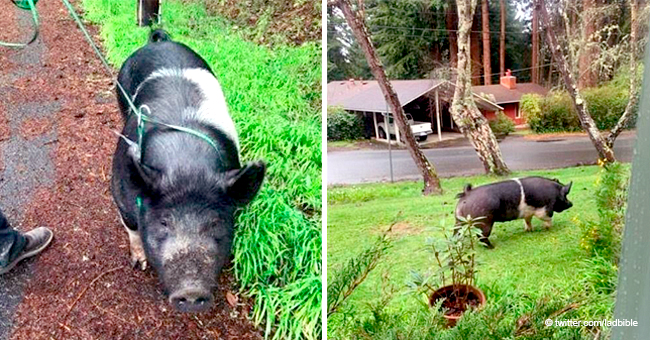 Family Devastated as Beloved Pet Pig Named Princess Killed by a Neighbor Who Agreed to Watch Her
A mortified California family blames a police officer and a "savage" neighbor for the death of their beloved 400lb pet pig named Princess.
On March 23, Princess decided upon a stroll around the neighborhood and later got spotted in a neighbor's yard.
An Arcata Police Department officer spoke to the man at the residence and arranged with him to keep an eye on Princess while he did his civic duty in trying to find her owner, as she had no tags.
The officer returned about an hour later and discovered that the man had slaughtered Princess for meat. "We were totally shocked and surprised to learn that the pig had been slaughtered," Arcata Police Chief Brian Ahearn told Lost Coast Outpost.
The officer was under the impression that he reached a "reasonable arrangement" with the man and had no idea that he was going to butcher Carrie's pet pig.
Judging by the stage of the butchering process, the man probably got started within minutes after the police officer left.
The moment someone has legal ownership of an animal, the owner can do with it what it wants, as long as it's not "suffering."
"It's just a really bizarre case," Police Chief Ahearn added. "It's just not clear what the thought process was. He obviously knew the pig didn't belong to him and he didn't have the right to slaughter it."
Apart from being furious with the neighbor that killed Princess, she also blames the police officer as "he took it upon himself" to place her pet pig in a stranger's care.
Carrie described Princess as a "very sweet" pig that she raised with a bottle in her living room. She went to confront the neighbor, but he told her that she had no right being on his property while still busy cutting up Princess.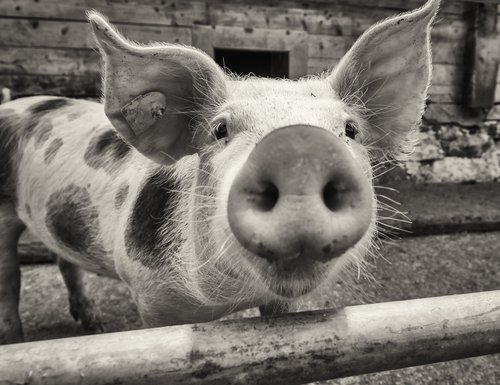 A Pig on a farm similar in appearance to Princess. | Source: Shutterstock
Dead and in pieces or not, Carrie wants Princess back because she does not want anyone to eat her pet. "I think that the hardest part of this is knowing that there's somebody out there that's this kind of savage," Carrie said.
According to the police department, the man broke the law and committed "theft of livestock" and will hand the case over to Humboldt County District Attorney's Office so that charges can get filed.
A similar case caused outrage in Vancouver Island after a three-year-old Vietnamese potbelly pig named Molly got adopted from the BC SPCA only to be killed and eaten shortly after.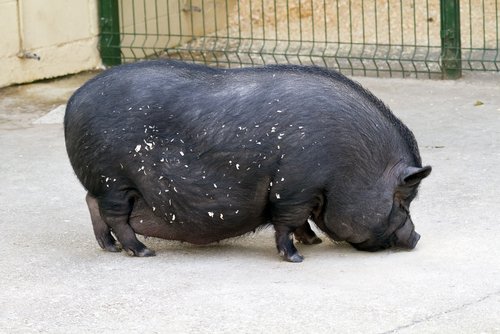 A Vietnamese Potbelly pig. | Source: Shutterstock.
Molly came to the SPCA's Cowichan & District branch following an animal cruelty investigation where the staff nurtured her back to health. A couple from Duncan then adopted her on January 19 and even posted pictures of roasting her chops over the fire, but they faced no charges.
Lorie Chortyk, general manager of community relations for the BC SPCA, pointed out a harsh reality regarding animal laws. "Unless an animal is left to suffer, there are absolutely no laws whatsoever that would allow us to do anything," she said. "So it's not that we wouldn't do anything necessarily, it's that there's no route."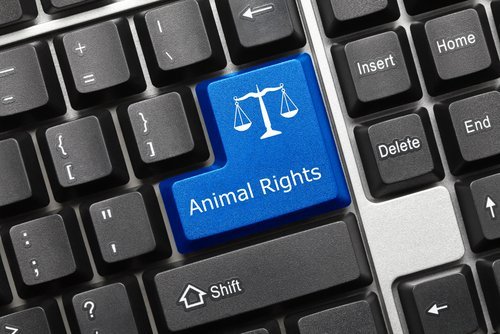 Conceptual animal rights keyboard. | Source: Shutterstock.
The moment someone has legal ownership of an animal, the owner can do with it what it wants, as long as it's not "suffering." And it will remain a harsh truth until it changes.
Pigs are known to be intelligent, and anyone that has owned a pet pig would be able to share numerous stories in support of that. But they are also known to be more doglike almost, compassionate and caring.
And one farmer had just such a story to tell about two pigs named Horten and Henry who he nursed back to health after they got found at the brink of death.
Please fill in your e-mail so we can share with you our top stories!