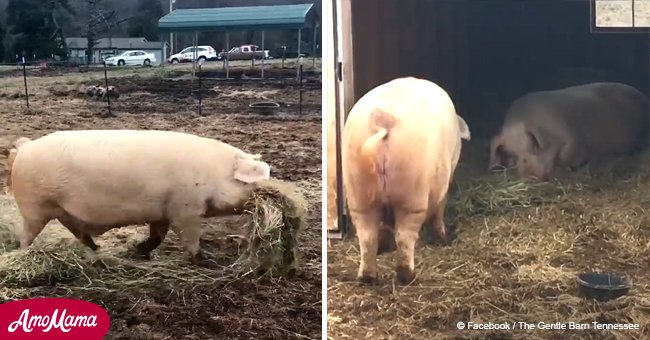 Farmer confused when pig takes food across pen, then realizes he was bringing it to sick brother

The farmers at The Gentle Barn in Tennessee caught a beautiful moment on camera, and it has since gone viral.
Two pigs named Horton and Henry had been residents at first since 2015 when rescuers found them malnourished and on the brink of death.
The owner of the Gentle Barn noticed that the pigs, two brothers, had a strong bond but she only realized the true extent of commitment to each other when Horton fell ill.
Follow our Twitter account @amomama_usa for similar stories and scroll down to learn more about Horton and Henry.
Horton had mobility issues and needed surgery. His road to recovery was long and tedious, and the vet's orders were lots of TLC and "bed rest."
Henry realized that his brother was feeling under the weather and became even more affectionate towards Horton.
When lunchtime rolled around, Henry would take grab a mouthful of hay and take it his brother. He also shielded Horton from the other pigs when needed.
The loving brother can sense that Horton is "delicate and vulnerable," and makes sure that the other farm animals keep their distance.
Henry is a very active little piggy but always ensures to be close to Horton. If Horton just sounds like he might be struggling, Henry is by his side in a flash.
When straw for bedding is set out, Henry makes sure that Horton has enough to be comfortable. The owner of the Gente Barn explains that pigs are naturally loving creatures. She said:
"Pigs have a highly developed language. They're always communicating through their different snorts or grunts. Henry especially loves people, too."
The Gentle Barn appreciates any donation that comes their way. They said on Facebook that they "can't do this work without" the loving community who supports them.
Netizens interested in donating to the Gentle Barn can contact Ellie Laks through their Facebook page.
Please fill in your e-mail so we can share with you our top stories!